AFFAIRS OF THE HART - HAPPY CRASHERS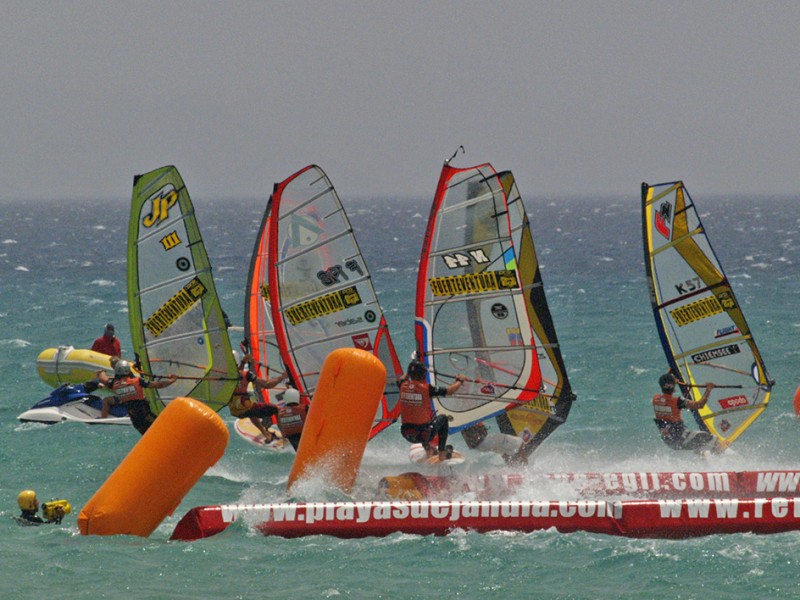 BRING BACK SUPER-X
Having marvelled at the thrills and many spills in the snowpark at the Sochi Olympics, Harty mourns the demise of Windsurfing's Super-X.
One of the reasons I love the Olympics, both winter and summer, is that for a couple of weeks people who day to day are not engaged in sport on any level, suddenly are. 
In the pub last week, Tom the farmer, who normally just sits in a corner bleating about the price of wheat, was pontificating vociferously about the rules of short track speed skating and how Elise Christie's disqualification was very unfair (the adjectives he actually used were a tad more colourful).
As someone with more than a passing interest in sport, I'm ever interested to hear outsider's opinions as to what engages them.
The winter Olympics is a tough one. Although over a million Brits slide down snowy mountains every year on various devices, for many it's just a convenient way of getting from mountain bar to mountain bar.
We're not a winter sports nation. Most of the disciplines are pretty alien to us. We don't know our luge from our skeleton, a double axel from a triple Lutz, let alone an inverted Frontside 9 from a Backside Rodeo.
Nor were we awash with medal contenders. So which out of all the sports, demanded the attention of the non-converted?
TV SPORT
Some while back I was involved in lobbying the head of ITV sport to air windsurfing on terrestrial TV.
He said, in a 'man-holding-all-the-cards' manner, that didn't invite much debate, that for a sport to be successful on TV, it has to transcend its captive audience in the same way that a lot of people who hate cars still watch Top Gear.
Furthermore, he said you have to care about who wins and that the lead has to change hands. If the outcome is uncertain until the end, people will keep watching and the advertisers will be happy.
He did like windsurfing, although strangely not wave-sailing. It was OK as a one-off spectacle, but as far as he was concerned, judged sports would never find a permanent place in the schedules – too subjective, too wishy-washy, nobody really understands the judging system, sometimes not even the judges apparently.
The result should be immediately clear to all. 
INFECTIOUS FUN
So back to the question. Applying those criteria, which winter Olympic sport had the widest appeal? The downhill skiing and the sliding down the ice tunnel on various high-tech tea trays are crazily impressive.
But when races are won by 1/100th second, it takes an incredibly trained eye to distinguish one performance from another, except when they crash.
As for Ice Hockey, very skilful but personally I can never see the puck. Curling. Were you swept away by it?  (Ouch. Awful. Ed.)
The Brits (Scottish) were in it. It was all about the result but we could have done without the 2.5 hours of sleep-inducing foreplay.
Short-track speed skating? Now we're getting there. I'd watch that all day. Give them some gloves with spikes on and it's legalised Rollerball. 
OK at this stage I'd like to add another criteria. I was once asked to help make some programs about high performance rowing.
Our demonstrator was Olympian James Cracknell. I train a bit on an indoor rower and, of all the words I'd use to describe the experience, 'enjoyment' is nowhere near the short list.
As an outsider looking in, it seems that at the top level, he or she who coughs up the most blood wins. So I asked James, where's the fun? I mean given a day off, would he wilfully go into oxygen debt for pleasure?
I explained that, in windsurfing, I'd been in wave contests where in between heats we've stayed out and kept ripping because the activity itself is so pleasurable.
He did mention the satisfaction of a crew working together at the peak – but that didn't really answer the question, which I suspect was 'no.'
So along with all the other stuff, in which winter Olympic Sport did it look as if they're having the most fun?
Two surely stood out, head shoulders and waist above all else. How could anyone have not be enthralled and endlessly entertained by both the Boarder and the Skier cross?
It's a race. First past-the-post wins. It's over in less than minute. We can spot and follow a favourite. It's spectacular, skilful, ballsy.
Did the lead change hands? A photo finish that shows 3 out of the 4 wiping out across the line separated by the width of a goggle tells you all you need to know.
And following mid air collisions at 50 mph., did the victims square up to each other, make like a football manager and share head butts?  No. They laughed, hugged, high-fived and went up and did it all again.
Now that is the sort of sport you'd want to be involved in. If only there was a windsurfing discipline like that.
Well there was – and still should be!  Windsurfing Supercross, the brainchild of then JP brand manager Martin Brandner, offered all the same thrills and spirit.
Between 2004 – 06 it was a World Cup discipline. It was slalom with freestyle. There were inflatable sausages to leap over, forward loops and Spocks to complete in between buoys.
With so much scope for messing up, it was never over until the last sausage was negotiated – such a welcome relief from slalom where the good guys had got boringly adept at defending a lead.
And in spots like Fuerte, the action took place by the beach in front of a grandstand. It was made-for-TV action. But by 2007 it had run it course.
The reasons proffered was that it was a bit frivolous – like making Usain Bolt run the 100m on one leg holding an egg and spoon.
With everyone crashing out, it didn't look professional. The format probably did need tweaking. But as with skiing, SuperX could co-exist happily with traditional slalom.
It opens another door for a more all round freestyler/speedster who has less kit and an even smaller desire to spend all day polishing it.
Could you imagine Super-X on one of the windy days of the 2012 games in Weymouth harbour before an audience of billions? How many parents and kids would be queuing up for taster sessions after that? Now my imagination is barrelling off into areas it has no right to go…    
PH 4th March 2014
The post AFFAIRS OF THE HART – HAPPY CRASHERS appeared first on Windsurf Magazine.