ULTIMATE WORKOUTS: 115L SLALOM BOARD TEST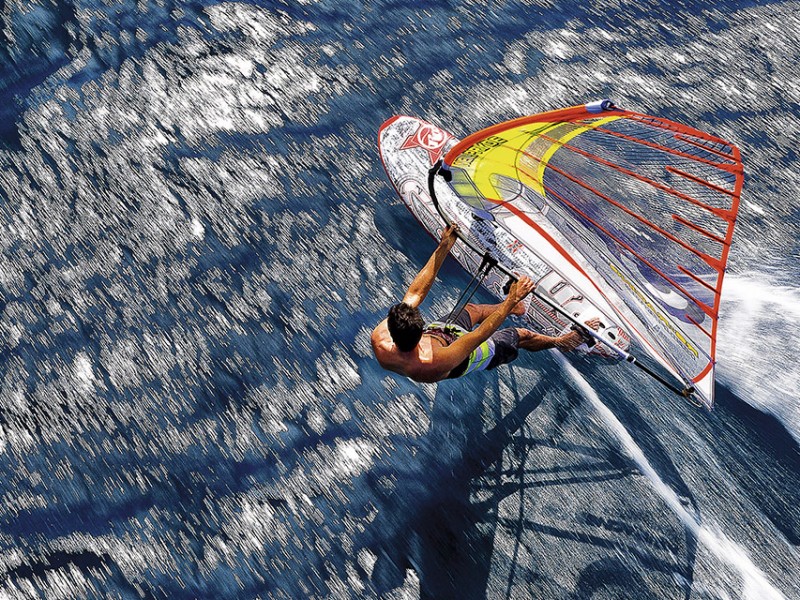 2014 115L SLALOM BOARD TEST REVIEW REPORTS
The first thing to mention, especially if you're a die-hard wavesailor or freestyler, is that slalom will REVOLUTIONISE your sailing ability – plus make you fitter than ever before. The buzz is akin to that of riding big waves and is definitely as addictive. Get into it!
For a start, slalom sailing is within the reach of nearly everyone who can plane in the straps and make a decent gybe. Beyond that there are challenges ahead no matter what you end up purchasing, but that's the fun of it …
DITCH THE GYM – SLALOM RULES
Be it drag racing with mates, or entering some level of racing, this is one challenging and very rewarding aspect of the sport that even the most dyed-in-the-wool wave or freestyler should be getting into, with amazing benefits for your all-round sailing ability and satisfaction.
Read on to see what kind of things you should be considering when reading the individual reports as you make a shortlist of candidates to test out before you dip your hands in your pocket.
Also, be sure to grab the upcoming June edition to see the results from the impressive 110L freerace board test– the performance of a few from that category and this one overlap way more than you think.
THE EXTRAS
Perhaps you're like some of us in that you've not sailed any modern slalom gear regularly? Or perhaps you've never sailed any at all – or are stepping-up from freerace or freeride equipment?
This test was originally published in the May 2014 issue.
Either way, you may have heard all about how vital things such as top-of-the-range masts, carbon booms and fins are. You may well think they all add relatively small percentage gains that collectively add up.
Well think again. Without exaggerating, the differences are night and day. In fact they're the difference between being able to sail in a straight line or not, in the case of fins, and determine how much energy you're going to expend/demand in the case of masts and how soft or hard they make a sail.
Carbon booms are just a given – you need the stiffest, lightest and strongest connection to your rig possible with this kit, so don't scrimp in this department either.
You'll also need an adjustable outhaul system to tweak on-the-fly. We've traditionally tested this gear before in Egypt in predominantly flat water. Such locations and flat, smooth water make everything easy to sail. – and nice!
This time, in much more challenging conditions, largely overpowered as you should be, we learned so much more about all the limitations of this equipment and the level of skill you need to be able to capatalise on their potential.
READ MORE THAN 300 BOARD AND SAIL REVIEWS
BLADES OF JUSTICE
You need at least three sizes of fin to cover varying levels of stiffness required for different wind and water states. There are great U.K. fin producers and sellers on our doorstep, including some top value, moulded carbon fins. G10 fins can be forgiving, but many may be too soft for these types of boards and the kind of power the matching sails provide.
Good carbon fins also deliver a massive amount of the acceleration you'll feel underfoot too, so try and have only carbon in mind if you're set on diving into this discipline.
LOCATION
Tenerife is the chosen winter training location of many top pro racers. Why? Well, apart from reliable wind, the water state in Médano is notoriously challenging to sail slalom gear in, with rolling swell mixed with crazy cross-chop and strong currents all presenting very hard-going.
These pros and our team find that the conditions amplify the intricacies of the gear and shortcomings in your personal skill level like nowhere else. Oh, yes, plus it was howling!
CONCLUSIONS
Fastest: A total toss-up between the X-Fire and the Manta with the iSonic very close behind. Possibly ahead if you value comfort over anything else… The X-Fire is slightly less technical to sail so you can argue its speed is easier to access.
Easiest to sail: The iSonic followed by the Falcon.
Acceleration: The super-fin-sensitive Manta edges the X-Fire by a smidgeon.
Gybing: The Falcon and the iSonic.
Special thanks to Tenerife Windsurf Solution (TWS) centre for hosting us – the best demo/hire centre in the world, F-Hot/Dave White for the loan of their mast mounts, I Love Meet and Greet Airport Valet Parking Services and windsurfingfins.co.uk for the loan of control fins.
BM
PRINCIPAL TEST TEAM
Chris Rainbow 75 kg. Med. Height
Julian Da Vall 83 kg. 1.95 Tall. Experience national and European-level racer.
Brian McDowell 100 kg. 1.90 Tall.
Thanks also to the various PWA pro sailors on hand in Tenerife who also lent a hand, showed us the best tweaks on their affiliated brands' gear and gave opinion on boards and sails from rival manufacturers.
Due to camera battery and GoPro failures during our test trip, we've had to use brand-produced images to show the gear in action.
NOW READ THE INDIVIDUAL REPORTS
FANATIC FALCON 110
JP SLALOM PRO 68
RRD X-FIRE 114
TABOU MANTA 71
STARBOARD ISONIC 117
The post ULTIMATE WORKOUTS: 115L SLALOM BOARD TEST appeared first on Windsurf Magazine.