SUP INTERNATIONAL MAGAZINE SUMMER 2014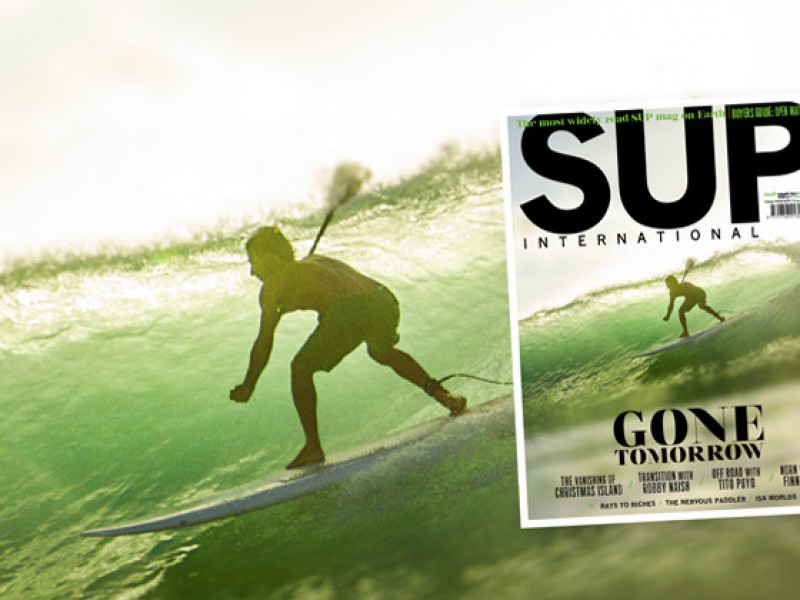 SUP INTERNATIONAL MAGAZINE SUMMER 2014
GONE TOMORROW 
The vanishing of Christmas Island // Transition with: Robby Naish // Off Road with Titio Puyo // Norn Iron with Finn Mullen
SUP International Magazine Issue 07 Summer 2014 is the definitive guide to the sport of stand up paddle boarding, we're constantly showcasing new products, discovering new angles, unveiling the most critical action and aim to make you a better and more motivated paddle boarder. 
Grab your copy by App now or the Print version in the shops soon!
The Fragile Present
A bittersweet story from Christmas Island; thundering green cylinders but will they still be there tomorrow?
Pyrotechnical
While one island disappears another one is created – surfing the newest place on earth, Hawai'i.


Slow Fire
It took him a while to get burning, but Mat Fouliard made it from rats to riches on Tahiti.
Gun Control
Finn Mullen never ceases to get the hairs up on the back of our necks with his cold water horror stories.
One Country's Journey
Team GB giving a thoroughly commendable account of themselves at the ISA worlds in Nicaragua.
Dancing with Crocs
Not the plastic sandals but the prehistoric apex predator. Alex Sergison penetrates the Botswana interior.
Transitions
Life's a see-saw and Robby Naish is going to tell us all how to ride it.
Surf training with
Cornish bazooka Nick Healey has killer dry land exercises.
15 Minutes with
The Viking, the Friendly Ghost, Denmark's Casper Steinfath.
Shaping Bay
Open water boards; get one of these under your feet and chase the horizon… They include;
BIC C-TEC TRACER
CIRCLE ONE 12' 6 ISUP
FANATIC  RAY WOOD EDITION 12´0
JOBE AERO 12.6
JP AUSTRALIASPORSTER ALL WATER WOOD SANDWICH
LOCO SUP   12'6 RACE TOURER
MISTRAL SUP   M1 OPEN OCEAN 14'0
NAH SKWELL  FIT 11'
NAISH 12'6 ONE
O'SHEA   GRAND TOURER GT
RED PADDLE CO  12'6" EXPLORER
RIVIERA PADDLE SURF  VOYAGER
RRDCRUISER V2 WOOD 12'
STARBOARD  ALL STAR 12'6
SURFTECH   BARK ELIMINATOR
+ Also  
perspectives, drop in, products, the close out  and  summer accessories…
PRINT & DIGITAL COPIES available 
The post SUP INTERNATIONAL MAGAZINE SUMMER 2014 appeared first on Windsurf Magazine.