BOUTIQUE BRANDS - SAILLOFT HAMBURG PROFILE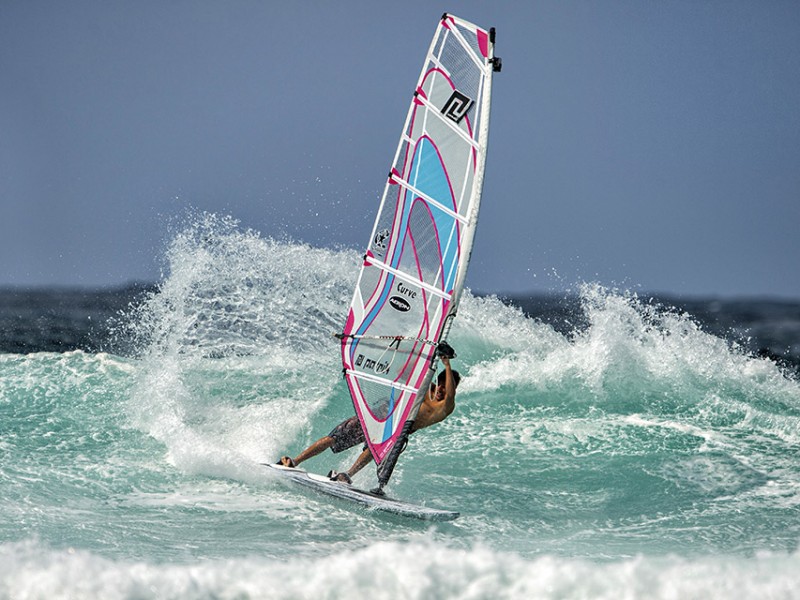 BOUTIQUE BRANDS – SAILLOFT HAMBURG PROFILE
In the first of a new series profiling smaller players in the marketplace, we quiz long-standing German brand Sailloft Hamburg on their philosophy regarding rig development.

Photos Oliver Maie'

(This feature originally appeared in the June 2014 issue of Windsurf Magazine. To read more features like this first, Print and Digital subscriptions are available. Prices include delivery globally for 10 x issues a year!)

What's the history of Sailloft?
Well, we started quite a while ago in 1988 – both Gerrit Maass and Olaf Hamelmann as custom-made sail designers. We each had our own brands. In the beginning it was a way to finance our university studies. All of a sudden we discovered that it's better not to become dentist and lawyer and so Sailloft Hamburg was born in 1996. A great turn in our paths of life. We started at around 200 custom made sails a year. By the end of the millennium sails became more and more complicated and it was increasingly difficult to fulfill the needs of a modern sail with expensive production in Germany. So we took our first step into serial production, starting with two sail lines  – just four sizes in each line in only two colourways. So it wasn't the largest order the factory had ever received!
Where's your production based?
The sail production is based in Sri Lanka. We still visit the factory twice a year. (If I count together all our visits in the factory in the last 14 years, then we'd have spent two years there.) All the design and development work is done here in Hamburg in our loft using CAD software.
Where do you see yourself in the market place?
We're a small brand but with a long record of knowledge. Being custom makers originally we're still focused on the needs of our customers. For example the minimum mast concept.
Who's your ideal customer or type of sailor?
I think there's any ideal Sailloft customer. I think every windsurfer has the right to have the best product that helps him to get the maximum fun on the water. But to answer your question most of our customers are really committed to windsurfing. They use their stuff often and want to have perfect quality and durability.
What kind of products do you specialise in?
Although we sell more wave and Freestyle sails I wouldn't say that's our speciality. We have crossover and freeride products too with a wide range of use. But the special thing we do specialize in – and the primary characteristic of a Sailloft sail – is delivering a wide wind range, say for gusty winds. Or to be precise, our target's to have all this in one rigging set up. Then we have specialised products like our Bionic line with special laminated panels. We were the first brand bringing this technology from the big boat racing scene to windsurfing when we release the first Bionic sail in 2009.
Who's on the development team?
Of course our international team riders as Adam Sims or Adrian Beholz (for Freestyle) are a part of the development team. We work closely with them and get a lot of input regarding the needs of professionals. But what the normal customers want is also important for us. We attend a lot of test events and hear and collect the wishes of the 'normal' windsurfers. We believe there are big differences sometimes between the wishes of the pros and the everyday sailors.  It doesn't sound sexy in the marketing brochure, but, at the end of the day it's the end customers paying us.
What's interesting in the pipeline?
We're working on a slalom / Race sail.
Why do you like making windsurfing sails so much?
Sail making is our life. It's challenging to design an aerodynamic object in three dimensions out of flat sailcloth. And then it should work in different rigging set-ups, from deep profile to flat and in gusty wind. Although the development steps are smaller today than 10 or 15 years ago, it's still fascinating. We love windsurfing ourselves and want to create the perfect rig.
What are the most challenging products to make?
We see every sail as a task. Yes, we are Germans and we cannot jump out of our skin! The first challenge is always to create a sail that fulfills all the requirements of two sail designers. Two designers means different ideas, especially when the designer are of different weights and have different sailing styles. But Olaf and I we are a good team. And when we finish a sail where both of us say 'yes!', then we know it'll fit more than 90% of customers.
What do you think of the current mass-production sail making landscape?
This answer requires an extra interview! To make it short: Sails in general (all brands) are of a high standard today compared to 10 years ago. But the recent trends are for specialised products for small, specific types of use. (3-batten sails for example.) I look on this trend with a little bit of sorrow as I think it's better for the customers if gear's simple and more versatile. Thanks Gerrit.
More info via sailloft.de
The post BOUTIQUE BRANDS – SAILLOFT HAMBURG PROFILE appeared first on Windsurf Magazine.
Click here to read more: Windsurf Magazine