LOW DOWN - JPAUSTRALIA S-GLASS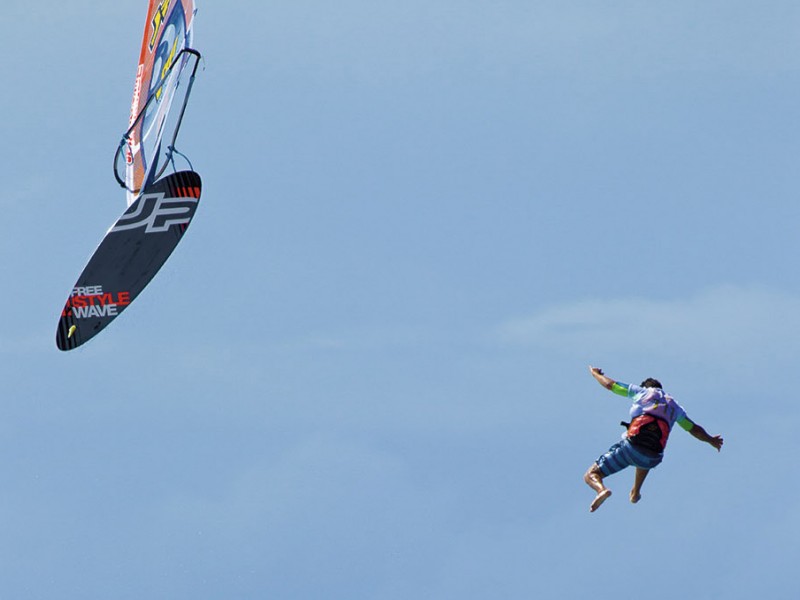 LOW DOWN – JPAUSTRALIA S-GLASS
JPAustralia are the only brand on the market to roll out widespread use of S-Glass laminate fibre in their PRO Edition waveboards.
S-Glass is said to have higher tensile strength properties than Carbon, Kevlar or Innegra – as well as many other benefits relevant to windsurfing use. We asked their Shaper, Werner Gnigler, to explain the advantages and reasons behind the switch.
What are the main benefits of S-Glass compared to other well-known laminates such as Innegra, Kevlar and Carbon?
The beauty of S-Glass is that it combines great durability with reasonable flex.
How does S-Glass translate into 'feel' in the board's behaviour?
We use it on wave boards. In this board segment, the riders are looking for a slightly flexy feel during their bottom turns. Identical boards with too much carbon don't have nearly as smooth and comfortable behaviour as the S-Glass shapes.
How does it compare in terms of cost – when will we see stronger, lighter boards that cost less?
S-Glass is a high performance material. It's slightly less expensive than carbon, but it's still not cheap.
We use it for its performance characteristics and constantly work on the best material mix to achieve the best possible combination between performance, durability and price
If S-Glass flexes, does that mean it's not as strong as carbon?
Carbon makes the board stiffer. On a high impact landing carbon boards do not flex and can break. S-Glass can flex a bit and so these boards don't break as much in these circumstances.
You cannot say one material is stronger than another, since each material has its own advantages.
Overall we believe that these are the strongest wave boards we ever had and they are probably the strongest ones on the market, plus they have the advantage of the flex and are light.
How does increased flex affect the integrity and memory of the other materials in the board, such as foam?
We have a sophisticated material mix. Our boards don't use only S-Glass. Nevertheless S-Glass boards have some flex, but do not change their shapes or effect the foam.
In terms of, say a bottom turn or a cutback, why is flex better than a stiffer feel?
The board just gives a bit in the turns. This results in extra bottom curve during the turns.Like a snowboard or skis.
You can really push and use the flex to your advantage and good riders even use the 'springy' feel to accelerate into their top turns or aerial.
Is flex better for predominantly lighter riders then?
Rider weight isn't such an issue. Smaller boards are thinner and therefore behave differently to bigger, thicker boards that heavier riders use.
Which areas of the board is the S-Glass used on?
Along the entire board – top and bottom – and in combination with various other materials.
What other reinforcements go into these kind of PRO construction wave boards?
More or less everything, PVC, carbon, normal glass, wood …
What potential does S-Glass hold for slalom, freestyle or freeride products?
On Slalom boards you want a stiff, direct hull, especially in light winds to transfer the sail power directly into speed. In high wind Slalom boards it could make sense since you are looking for more control and a smoother ride.
In Freestyle, the riders also look for direct 'pop', so flexier boards would limit their ability to jump as high and perform the big moves.
Maybe it'll find a place in Freemove boards one day since they're used in higher winds. I guess Freeriders also prefer a more direct feel as well.
Thanks Werner
The post LOW DOWN – JPAUSTRALIA S-GLASS appeared first on Windsurf Magazine.