LOW DOWN - JPAUSTRALIA S-GLASS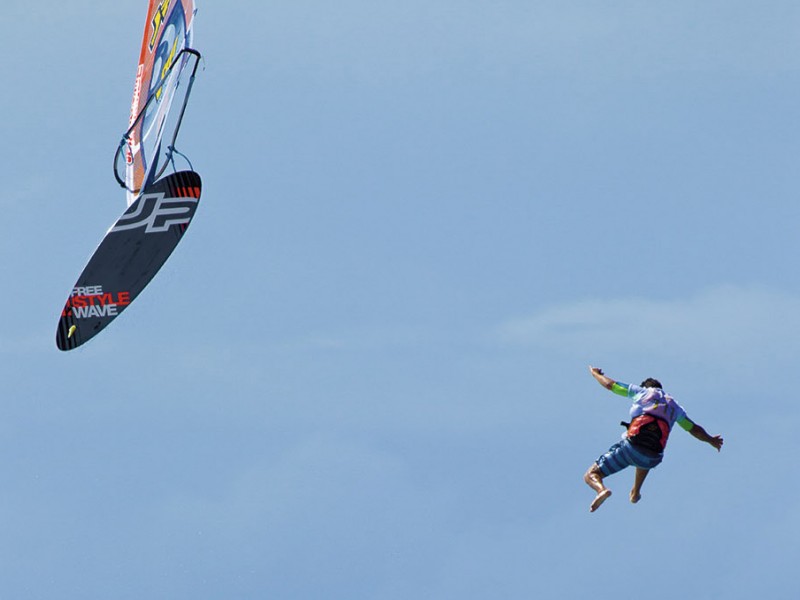 LOW DOWN – JPAUSTRALIA S-GLASS
JPAustralia are the only brand on the market to roll out widespread use of S-Glass laminate fibre in their PRO Edition waveboards.
S-Glass is said to have higher tensile strength properties than Carbon, Kevlar or Innegra – as well as many other benefits relevant to windsurfing use. We asked their Shaper, Werner Gnigler, to explain the advantages and reasons behind the switch.
What are the main benefits of S-Glass compared to other well-known laminates such as Innegra, Kevlar and Carbon?
The beauty of S-Glass is that it combines great durability with reasonable flex.
How does S-Glass translate into 'feel' in the board's behaviour?
We use it on wave boards. In this board segment, the riders are looking for a slightly flexy feel during their bottom turns. Identical boards with too much carbon don't have nearly as smooth and comfortable behaviour as the S-Glass shapes.
How does it compare in terms of cost – when will we see stronger, lighter boards that cost less?
S-Glass is a high performance material. It's slightly less expensive than carbon, but it's still not cheap.
We use it for its performance characteristics and constantly work on the best material mix to achieve the best possible combination between performance, durability and price
If S-Glass flexes, does that mean it's not as strong as carbon?
Carbon makes the board stiffer. On a high impact landing carbon boards do not flex and can break. S-Glass can flex a bit and so these boards don't break as much in these circumstances.
You cannot say one material is stronger than another, since each material has its own advantages.
Overall we believe that these are the strongest wave boards we ever had and they are probably the strongest ones on the market, plus they have the advantage of the flex and are light.
How does increased flex affect the integrity and memory of the other materials in the board, such as foam?
We have a sophisticated material mix. Our boards don't use only S-Glass. Nevertheless S-Glass boards have some flex, but do not change their shapes or effect the foam.
In terms of, say a bottom turn or a cutback, why is flex better than a stiffer feel?
The board just gives a bit in the turns. This results in extra bottom curve during the turns.Like a snowboard or skis.
You can really push and use the flex to your advantage and good riders even use the 'springy' feel to accelerate into their top turns or aerial.
Is flex better for predominantly lighter riders then?
Rider weight isn't such an issue. Smaller boards are thinner and therefore behave differently to bigger, thicker boards that heavier riders use.
Which areas of the board is the S-Glass used on?
Along the entire board – top and bottom – and in combination with various other materials.
What other reinforcements go into these kind of PRO construction wave boards?
More or less everything, PVC, carbon, normal glass, wood …
What potential does S-Glass hold for slalom, freestyle or freeride products?
On Slalom boards you want a stiff, direct hull, especially in light winds to transfer the sail power directly into speed. In high wind Slalom boards it could make sense since you are looking for more control and a smoother ride.
In Freestyle, the riders also look for direct 'pop', so flexier boards would limit their ability to jump as high and perform the big moves.
Maybe it'll find a place in Freemove boards one day since they're used in higher winds. I guess Freeriders also prefer a more direct feel as well.
Thanks Werner
The post LOW DOWN – JPAUSTRALIA S-GLASS appeared first on Windsurf Magazine.
Click here to read more: Windsurf Magazine
2014 STARBOARD QUAD 82L CARBON
2014 STARBOARD QUAD 82L CARBON TEST REVIEW REPORT
BEST FOR
Any level of wavesailor will step aboard and love this shape. In terms of conditions we can only vouch that it's outstanding in onshore slop, but it's clear the board's been developed to cope with the full gambit of side-off to onshore setups and surf of all levels of power.
RECOMMENDATION
We started with the widest stance possible and would recommend bringing the front straps aft a little and keep the rear foot as far back as possible over the fins. Leave the fins in the middle settings.
BRAND CLAIM
"The Quads are Starboard's most versatile wave boards. The unique shape and the four fins generate maximum drive and acceleration, bringing an awesome production of speed, flow and power to your sailing in all wave & wind combinations."
OVERVIEW
Outline: Wide point just to rear of track. Full hips, otherwise even curves front and aft. Pointed nose and squashtail.
Deck: Keeping the trend of the flat surfboard-style top surface.
Rail Profile: Uniform tuck, hardening by front fins.
Bottom Shape: Single concave in nose, no roll on rail shoulders – curves always out to edge, deepening under mast track, tapering through front straps
Rocker Line: Noticeably high overall rocker, even curve without any flat spot in concave or on centre line. Nose kick.
Fin Configuration: Narrow Quad cluster. Drake G10 13 cm rears, 11 cm fronts – all swept back.
Pads: Minimal deck pads,
Straps: Drake PU leather traditional adjustment with markers. Anti-twist inserts in strap plugs.
Construction: Full Carbon
PERFORMANCE
The Starboard Quad 82 is one of those instantly natural feeling, 'invisible' boards that you can just forget about under your feet. Stable enough off the plane, it's nicely poised with about as lively a ride as you can get without any issues of tracking or spinning out. The speed and early planing is good too, which is obviously handy for jumping, but in general, 'around the park', this is a fast and vigorous shape. In the messy, small and weak surf we tested it in we found positive tracking and insane levels of security and grip. There's something special going on in the acceleration and nature of the turning here. You feel very connected to the rail on this design with an awesome sensation of direct bite and projection to instantly set up a ride just right. Through and out of the turn we felt we could do anything!  Vertically hook, climb foam, carve, pivot off the fins, whatever, it always seemed reliable in the way it came off the top. In relation to the onshore situation it also carried speed well off the wind and always had a little extra squirt left in the tank to squeak turns out of short, tricky sections. A real tester's favourite.
THE VERDICT
Wavesailing on autopilot! Like a sports car in automatic, the Starboard Quad 82 is a refined, alive and dynamic board that delivers confidence and amazing drive into, through and out of turns.
www.star-board-windsurfing.com
READ THE OTHER REPORTS
FANATIC 82 QUAD
GOYA CUSTOM QUAD 84
JP AUSTRALIA TWINSER QUAD 82
NAISH STARSHIP 90
QUATRO CUBE QUAD 84
RRD WAVE CULT QUAD 83 V5
SIMMER QUANTUM 85
TABOU POCKET 85
WITCHCRAFT SHAMAN 88
Click here to read more: Windsurf Magazine
2014 STARBOARD KODE WAVE 92L CARBON
2014 STARBOARD KODE WAVE 92L CARBON TEST REVIEW REPORT
BEST FOR
Heavier riders who enjoy sailing well- powered. We didn't get to try it in true down-the-line conditions, but can thoroughly recommend it for onshore destinations.
RECOMMENDATION
Pair with rear-draft sails for ultimate control and power.
BRAND CLAIM
"The Kode Wave is the board choice of two times World Champion Philip Koster. It is fast to get on the plane with remarkable top end speed for taking jumps into the stratosphere. The Kode Waves are Philip Koster's fast, aerial style 'next- generation' signature wave boards."
OVERVIEW

Outline: Remarkably 'hippy' rather than some of the tear-dropped outlines also in test, progressing into squash tail. Wide point is nearly 9 cm from the back of the track. Second narrowest width under back strap on test.
Deck: Relatively flat.
Rail Profile: Pretty boxy throughout, not much tuck up front, increasing at track, shallowing and not really sharpening much to tail.

Bottom Shape: Gentle roll in the nose, then a fair bit of vee (no concave) to track, converting into vee/subtle double concave under straps, flattening in front of fins, then into single concave at fins, ironically deepening behind fins and last 100 mm or so shallows to tip of tail.
Rocker Line: Subtle flat between back of front strap to mast track. Balance is aft with most overall rocker in nose.
Fin Configuration: 2+ 1 'MB fins for Starboard' twin 17 cm upright foils. No centre fin supplied. 2 mm of toe-in. Fins are positioned close together.
Pads: Chunky K9 pads (uniform thickness) single density.

Straps: Drake PU leather traditional adjustment with markers. Anti-twist inserts in strap plugs.

Construction: Full Carbon
PERFORMANCE
Our first sessions on this 92 were quite marginal and  – although stable and easy to wobble around on – in gusts the board was unbelievably lively and eager, revving-up and thrusting forward to free itself onto the plane, to the extent that sometimes it was hard to control the fins while getting up-to-speed.
We were nervous prior to sailing it more powered-up. Would there be a wild sleigh ride involved? Would it bite us in the ass? But what a difference.
A completely transformed character saw it, literally, settle down on the water and behave, showing amazing speed and control in straight-line sailing.
The acceleration is phenomenal and there's a super light feel underfoot, which is obviously beneficial to jumping. We preferred it on draft-further-back sails that seemed to help the twin fins grip more.
On the wave it carries a little bit of useful momentum in the dead spots, but all the fun is in how fast and tight it turns, accelerating out of the bottom turn with the nice and narrow squash tail helping to hook cutbacks at speed.
Considering how easily twin fins generally slide out if not carved totally off the rail, our larger testers were surprised how well this pair held (we never tried it in single fin mode).
The Kode 92 is by no means a hard board to sail – but it's definitely not for the feint-hearted!
THE VERDICT
An exciting board that's lightening quick for jumps and a demon for fast and tight turns.
www.star-board-windsurfing.com
NOW READ THE OTHER REPORTS:
FANATIC TRIWAVE 95
GOYA CUSTOM QUAD 94
JP SINGLE THRUSTER 92
TABOU DA CURVE 91
QUATRO CUBE PREMIUM 98
WITCHCRAFT CHAKRA 95
Click here to read more: Windsurf Magazine
One year ago I decided to sell my slalom gear (Isonics and Severne Code Reds) as I live in Scheveningen close to the North Sea and only once in a while used my slalom gear in light winds. I decided to start supping to get more TOW (Time On the Water) on windless periods and bought myself a Starboard Hero, a 9′ ,33″ SUP suited for intermediate riders.
Most of the people advised me to go for a 10 or 11 ft board, just to have more fun in the beginning with the length and width giving more stability. As I started to read on the internet I found that stability, tracking and maneuverability are the most important issues when buying a SUP. Then, as I am into wavesurfing, I decided to make maneuverability the most important one and compromise on stability and tracking. The Starboard website works great in giving you the first options . The Converse, Hero and Widepoint were my main options. As I was just a beginner, the width of the Hero was the reason to buy this board. I already had a paddle, an aluminium one that I used to paddle on my Starboard Starts when surfing with the kids and I used that the first times. But…..THAT DOESN'T DO THE JOB! I found out that a good paddle is even more important than the board. Quite expensive (250 euro's and up) but full carbon is so much better. Lighter, stiffer and giving you direct power when paddling without loosing energy in the bending of the blade and shaft. I got myself a Quickblade Kanaha Magic  but there are off course some other brands having the same quality. Tip; they usually say that the length of the paddle is one shaka above your body length  but as you're having a deeper kneeflex and are bending more in the surf it can be shorter when used for wavesupping.
I remember the first paddle out wasn't a success  It was far more difficult to keep balance as I thought it would be! A longer board definitely will create instant success but would make it sluggish once you make the first steps and start to ride waves windsurfing style. Balance is an issue also. You can't put a coin in the machine and make that happen, your body needs some time to adapt and connect to the feeling of the board. It took me 3-4 times and one flatwater long distance session to create that feeling. After that, progression was made every time out! Supping is a great workout, a pure core-stability training and a good way to help you read waves better, using the energy of the waves, developing your balance and basically get a lot more TOW. The energy and dynamics are different compared to windsurfing as you spent a lot of time looking and waiting for the right wave and obviously getting the biggest of the set. A lot of paddling also, especially in the Netherlands with the constantly changing breaks due to the sandbanks and tides. Also; without the windchill, Supping is even possible in subzero degrees using 5mm boots, 5mm open palm mittens, and a 1mm polypro under my 5/3 Matuse Tumo hooded! That means surfing all year!
After one year, including our windsurf/sup trip to Brandon Bay and about 40 paddle sessions, I've made a lot of progression. Supping is fun and a great low wind alternative to get max TOW!
There are many shops in the Netherlands and world wide selling SUP's. Feel free to visit your local shop and get informed how you can get more TOW. Don't know where to start? Feel free to get in touch with my sponsor The Essential Store to discuss some options and alternatives.
Click here to read more: BoardKings
Riders such as Philip Köster, Taty Frans or Boujmaa Guilloul give you an insight into their opinion.
Click here to read more: continentseven.com » Industry
Big congrats to Jim Crossley on nailing his 45knot average and firing himself into 6th place for the 2012 GPS-SPEEDSURFING.COM rankings. Jim was using a Moo custom and K4Moo carbon 20 fin. That means we now have two riders in the top 6!
Jim..
"The fin was great with the broad wind…the board/fin combo must have been perfect as I didn't have to think about the chop until I wanted to slow down! I just had to sheet in and hold on!"
The K4-MOO carbon speed fins are available at MOO CUSTOM
Click here to read more: K4 Fins - Specialising in Performance Wave, Freestyle and Speed Fins
Chinook has just updated its legendary extension range. All carbon extensions are now being manufactured in the US to ensure the highest standards of quality control and finish. The medium skinny extension gains an additional 4cm to 32cm and the long version  gains 8cm to 46cm. This allows them to cover an even bigger sail range, typically taking you up to a 7 metre sail on a 430 mast.  The pin and collar adjustment system removes less fiber to maintain strength of tubing. All come with the proven Power-Haul pulley and cleat system and 2 cm adjustment increments. New graphics finish off the very attractive package. The skinny carbon range covers short (12cm), medium (32cm) and tall (46cm) and the standard diameter range is medium and tall, all being available with either Euro-pin or US cup base fittings. From £89.95 to £119.95 from proper shops. Contact K-Bay.co.uk for more details.
Click here to read more: boards» Windsurfing News