JEM HALL MOVE ON UP - SKILLS AND DRILLS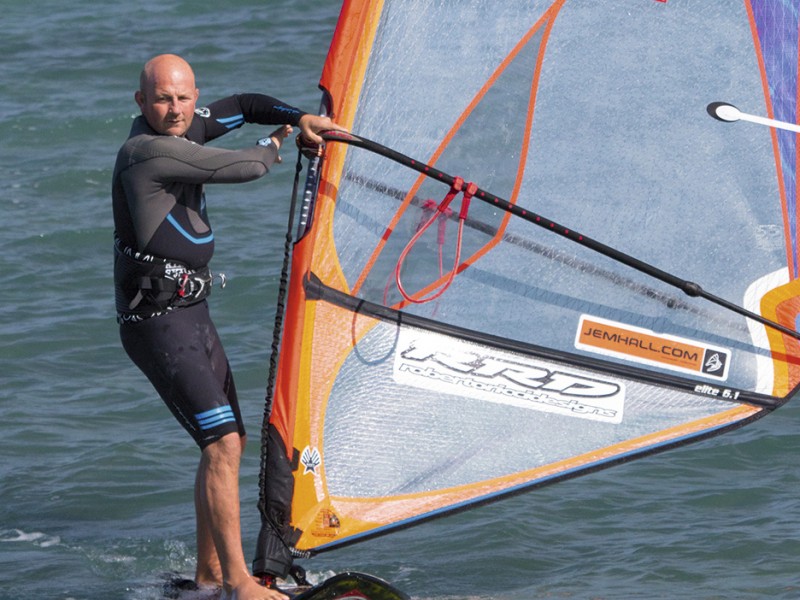 JEM HALL MOVE ON UP – SKILLS AND DRILLS
Looks like summer is here, so I hope you've been getting out on the water and had a few sessions under your belt? So, coach would like to know how are the cracking tacks and Holy Trinity going? 
(This feature originally appeared in the August 2014 issue of Windsurf Magazine. To read more features like this first, Print and Digital subscriptions are available. Prices include delivery globally for 10 x issues a year!)
---
Right moves, right time, right place
After my usual June sojourn to Reliable Rhodes it was great to welcome back a lot of returners whom I'm fortunate to have on my coaching hols and, once again, I witnessed that the ones who improved the most throughout the clinic – and most definitely year-on-year – are those that hone their 'Skills and Drills' in lighter airs AND on bigger kit. These people are all pro active learners and motivated to improve. They all employ the above mantra of 'right move, right time, right place' and have a very clear idea of what target to set and what moves to work on in a wide range of conditions and the golden ticket to improvement from working on and improving their self coaching – along with a very good helping hand by me, of course! They are pilots and not passengers, so I implore you to fasten your seat belts and move into that illustrious position. Following up from last month, (July 2014 issue), I will now look at what skills and drills you can do on a larger freeride / freemove board and strongly recommend a wide thin one for you sir / madam. Once again, lets embrace EFFECTIVE Time On The Water as 'the wind is a gift, not a given'. Again, if you want to improve, you must choose to take actions to do exactly this, so, what actions could you take? Again, all these skills and a huge amount more are covered in full in my DVD 'Beginner to Winner' and more will be presented on my Vimeo channel.

" NEVER AGAIN SAY I WISH OR I HOPE FOR, FIERCELY EXCLAIM  I WILL!' ANON "
STANCE
Last time, using WindSUPs, we got all touchy feely in your stance and about understanding where the sail is best positioned to give you the most available power. Now we are on our planing big boards I am assuming that the wind is at least a force 3 (8 kts. /13 km/h. / 4m./sec), perhaps touching a low force four.
Drills for Stance:
• First up do at least 10 minutes with no harness on to develop some fitness and power control and appreciate that the sail is often placed in a better position when un-hooked in lighter winds. It also gives you vital windsurf fitness.
• As ever, my favourite skill, in all winds, is to sail one-handed and now please do it hooked in. Try either hand and discover what skills it builds. Wind awareness and power control will be at the fore.
• Now get in the footstraps (generously sized please) non-planing. This will make you better acquainted with them and help you to become more accustomed with pulling down on the boom (downforce) and better board trim with subtle footwork and leg bending.
• Lift your front leg. This will help you understand down force through your front arm and how bending your back leg helps you trim the board flat, vital for smooth foot-strapping.
• Now for your starts: For fitness and dynamism, do both leg drags and leg drag beach starts (both ways please). Sail along and just put your front foot / leg in the water. This is a huge skill builder and getting back up mimics coming up in a waterstart! Beach start leg drags will transform and improve all your starts. It will require you to: engage heaps of down force on the front arm, a generous amount of mast foot eating and a lot of tail pulling in through the back leg.
CRACK THAT TACK
I have extolled the virtues of this newly highly respected move called the tack in the June Feature and it is worth a recap from here, just so you know these past features will be up online on the fab Windsurf site in the coming months. By working on the tack in lighter winds and at slower speeds, you have a great chance to become more dynamic, master the skill of dynamic recovery and perhaps with the sound track of 'Never going to give you up' (name the artist, showing my age here) you will gain the persistence and recovery skills that transform good sailors into great sailors.
---
// Dry gybe drill helps you learn, build and better your gybes!.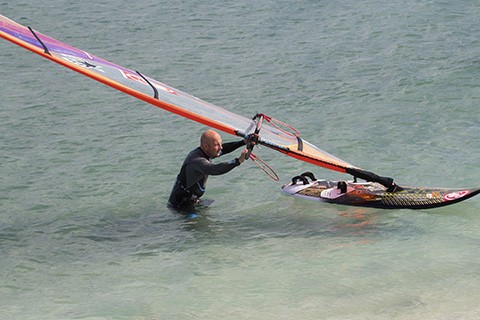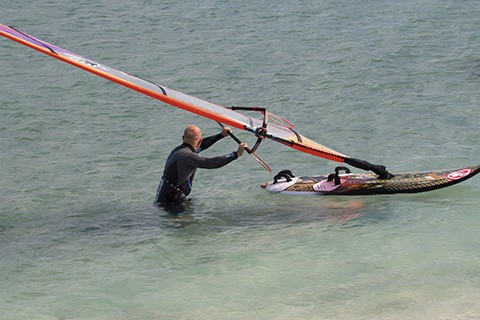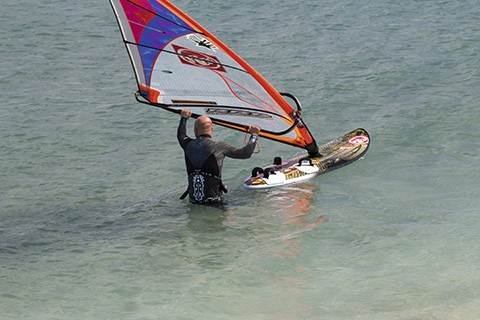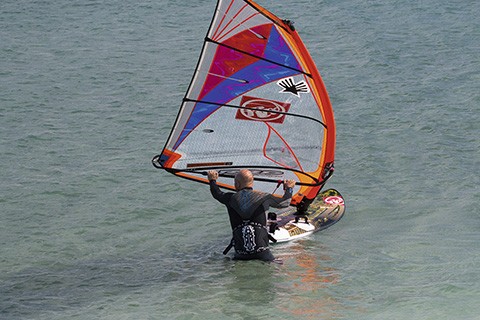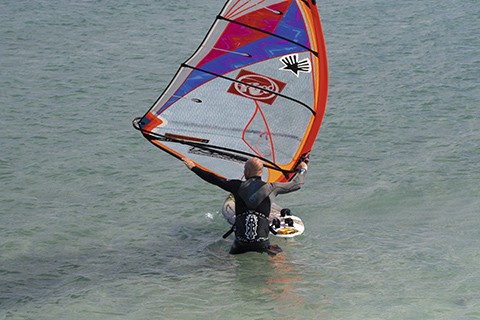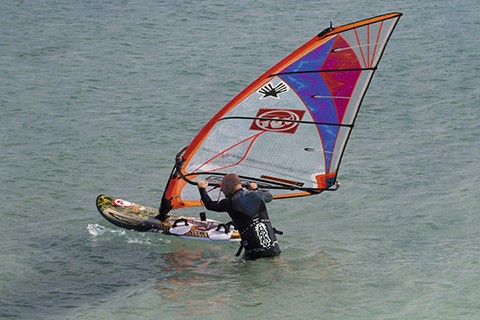 GYBE TALKING
I will now reiterate, as it is very very important you acknowledge this, that, unless YOU have cracked the light wind gybe (fundamentals gybe) and its all important stages of a clear beginning, middle and (clew-first) exit, then it will be very tough to master the carve gybe in planing conditions, AND fully own clew-first sailing domination. The biggest recipe for gybe and carve gybe success is to work on the following drills and skills: dry gybe drill, clew first beach starts, aggressive steering (up and downwind) and light wind gybes on big platforms. I will cover carve gybe top tips in next month's piece, but for now, lets look at this amazing dry gybe drill. This is THE DRILL to nail your gybes, improve your clew-first rig control and enhance rotating the sail. Light winds are best for this with a flat-set sail in waist-to-shoulder-depth water
• From your beachstart position, take a wide grip (back hand way down and front hand at front harness line) on the boom, position yourself at the back of the board and turn the kit downwind by steering through the rig.
• Start to look out of your turn at the clew and walk around the back of the board. Try and do this like the footwork in an actual gybe.
• Control the rig clew first with your body low over a bent back leg, straight front leg. TIP: Remain clew first and get acquainted with power control and steering in this position. Maintain that wide grip on the boom and look at your clew (former back hand).
• Slide your front hand to the mast and guide the rig towards the back of the board. Go on, actually swing it there. Keep looking at the old backhand; this stops gear gazing and you admiring your beautiful hands.
• Reach under (keeps you lower) with the old backhand, and then forcefully guide the rig forwards
• Look forward throughout.
• Repeat the drill in the new direction and then carry on and on. This is also a great shoulder, back and core workout.
• Note that the rig is ROTATED in a circular motion and sliding that front hand up to the mast greatly assists this. The rig is kept away throughout. As the rig is guided back, the hips move forward and, as the rig comes forward, the hips move back.
---
// Leg lifts build skills, fitness and dynamism.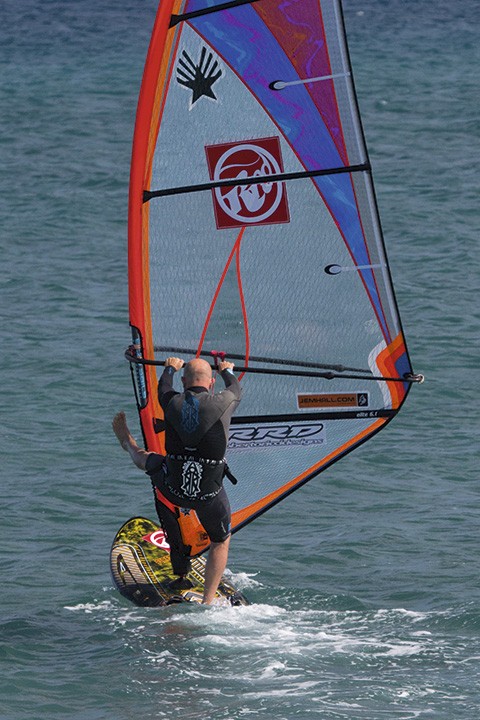 // Nail front-to-sail and own the tack, heli tack, and carving 360s.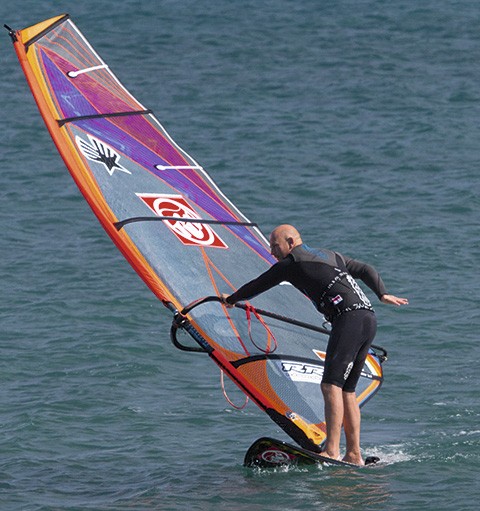 // Try looking at your old back hand after the rig release so as to get your rig rotation smoother.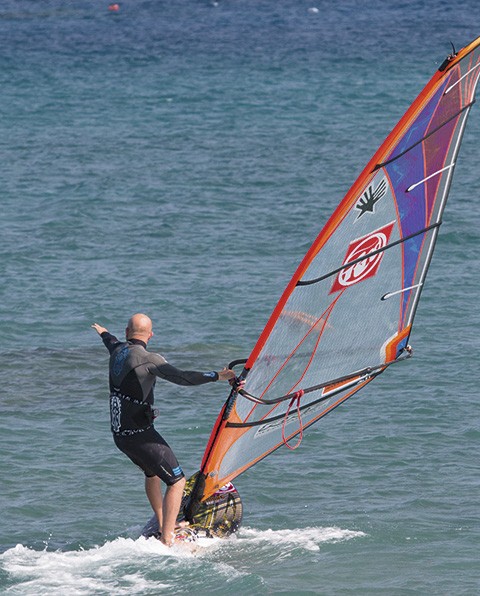 // Swing the rig to the back of the board as you lean forward to take the weight out of the rotation.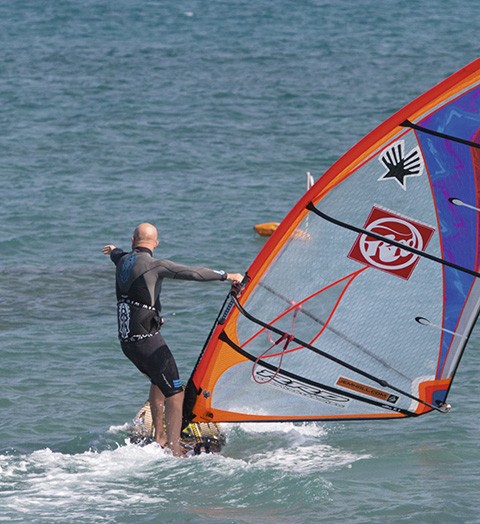 LIGHT WIND LOVING
Once again after just getting back from 3 weeks of coaching weeks on the flattering flat waters of Reliable Rhodes that after a few light wind sessions all my rippers made better progress in the higher winds, including first gybes, better carve gybes, first duck gybes and smoother loops. Light-wind loving makes you a legend, plus you get the added benefit of tougher hands and feet, improved fitness, balance and co-ordination – and more well-earned 'you time' as you master the skills that will help your high-wind thrills. During your light wind appreciation a great combo drill is to do Endless moves, where you gybe one way and then sail 10 board lengths and then tack the other way and after 10 rotations you then reverse the rotation, e.g., tack and gybe the other way. Between each tack and gybe you can do straight line moves like leg drags, in straps non-planing, leg raises, sailing one-handed etc.
FREE YOUR STYLE
Light winds are all about being present in the moment and looking for opportunities to have fun and learn new moves – that is if you wish to improve and move on up. A lot of the moves you learn and build on your bigger platforms (such as beginner boards / WindSUPs) can and should be refined on a freemove / freeride floater with a flat-set, medium-sized sail. (These were covered in my July 2014 feature.) As a reminder, these include moves like Front to sail, heli tacks, upwind 360s, sailing fin first, sail ducks and floaters etc.
So, before you read on, please have a think and write down on paper – or on your phone some SMART (specific, measured, applicable, realistic and time bound) moves that will become the moves that matter to you. 'Never again say I wish or I hope for, fiercely exclaim I will!' ANON, because I believe in you and now you believe in you.
Move on up
Go on and get out there and set a new standard, as the standards you set are the standards you attain.
---
// Gybe talking next month.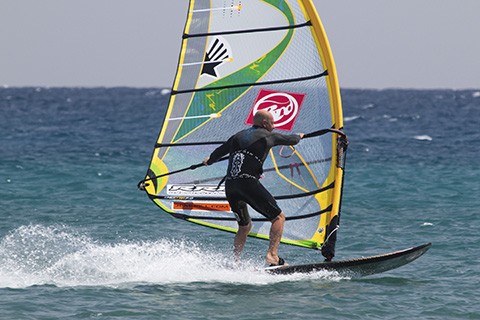 ---
Wide and thin is beautiful
Why use a WindSUP?
Why use / own a Wide thin (Winner) board?
• REASONS FOR.
• The test teams in this very mag already extol their virtues.
• After huge steps up in wave, freestyle and slalom boards, that appeal to much wider customer bases, the freeride / move market was the one area requiring a breakthrough. Winner boards are an evolution in terms of performance!
• People who try them think they don't need or want them and then go straight out there after a test drive and buy one – so they must work!
• Wider wind range from non planing to fully powered.
• Easier to nail moves on. Tacks and gybes become better and more consistent and this builds confidence and thereby passion to progress and enjoy our sport thus further.
• More EFFECTIVE time on the water, meaning you get better, fitter and happier. If we only have Force 3 – 4s for a few months, then we are still ready to do battle in the strong winds we will gratefully be ready to receive in due course.
• They plane early, sail fast, are heaps of fun and very easy.
Once again I have proposed my case so open your mind and improvement, fitness and stronger fundamentals will follow. This could well be the start of a beautiful relationship!
RRD boards, wetsuits, softwear, Ezzy sails and Pro Sport Sunblock sponsor Jem Hall. Get him live and direct on one of his highly-acclaimed coaching holidays, but be quick as they are selling out – check out his fab new site www.jemhall.com for details. You can also follow him on Twitter / Facebook.  
The post JEM HALL MOVE ON UP – SKILLS AND DRILLS appeared first on Windsurf Magazine.
Click here to read more: Windsurf Magazine