JEM HALL MOVE ON UP - PREPARATION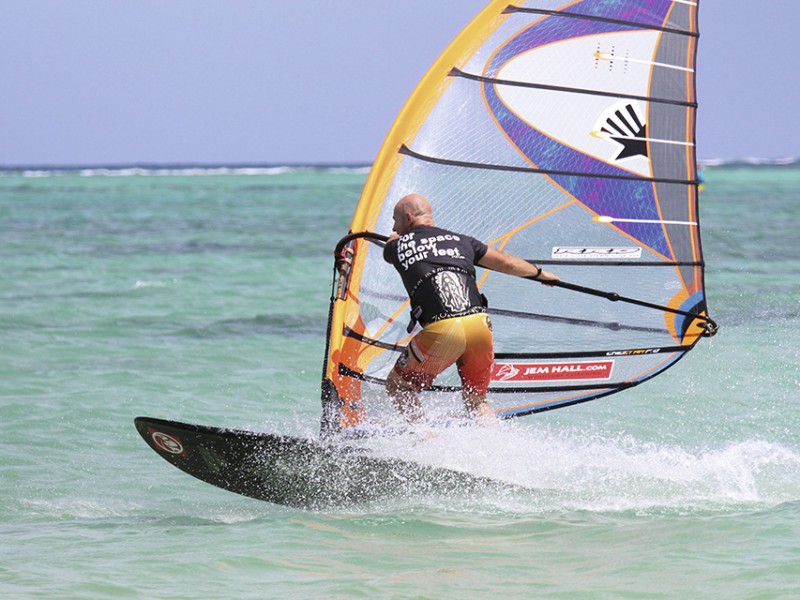 JEM HALL MOVE ON UP – PREPARATION
I TRUST YOU ENJOYED MY WAVERIDING PIECE LAST MONTH and hope you understood that if you prepare well for your jumps, rides and have solid fundamentals, tacks and gybes then you will get the very best out of many of your sessions. Inevitably the glamour has to go with the grunt. I often use what some might say is a clichéd quote on my coaching holidays, 'by failing to prepare you are pre-paring to fail,' yet I strongly advocate heeding these words and so in this feature we will look at the vital skill of preparing effectively for carving tacks and carve gybes.
If we break moves down into smaller constituent parts then they are far easier to achieve competency in – preparing well and hooking out effectively is already one success and a huge step towards to efficiency and consistency as you can then forget the first stage and work on the next one.
I set an overall target of having focus in every session and being consistent in the basics, as I extolled in last month's wave piece, and my consistency stems from preparing the same way for the main moves, all the time, every time!
Gybe talking
On clinics I love asking this question: 'How do we unhook when powered up? By bending the arms or raising the hips?' What was your answer? Go on, have a go. Well, as the suspense is killing you, I will let you in on one of my golden top tips; unhook from a low position by bending your arms to drop the lines out of your hook!
Why?, I hear you cry, well if we stay low, with our hips dropped, then the sail stays sheeted in which locks the board down and we can also pull the kit down into the water and the harness lines will be very taut, and thereby easy to unhook from by just a quick pull in on the arms. The antithesis is raising your hips to unhook which brings us upright and allows the sail to open up and the board to misbehave.
Before we go piling into our gybes, as new unhooking masters, let's take a step back and ask what is the most important action in the carve gybe? Your answer is?? For me, and a huge amount of my clients, I would say it is moving our backhand way down the boom. The added bonus to this is that this habit will also help you in waveriding, looping and freestyle moves, and I feature this important action as one of my many clips on my #top100tips on my Vimeo channell.
So to put some power and performance into your preparation, a useful mantra here is to focus on HUF and PUFF when you gybe. Let's look at the HUF:
•  HUF in this context stands for Hands, Unhook and Feet. Please say this a few times and visualize.
•  Hands: in the gybe ensure you slide your backhand way back to ease unhooking, sailing unhooked and being ready for all the dynamic motions in the carve gybe itself. A bonus tip here is to get your front hand close to the front harness line before you unhook, this gets the rig forward into any carving move.
•  Unhook: get low, keep the harness lines tight (like piano strings), and unhook by pulling in on the boom.
•  Feet: from your low position you can now scissor (steer) the board downwind and remain outboard. This will increase your speed, get the rig light, the board ready to carve and give you time. Use this time to then pull the back foot out of the strap, pulling down on the boom to ease this as it lightens your feet. You are now in the best position to roll into and commit to the carve.
What about the PUFF? – No clever acronym here sorry, but we all know about the effort involved in learning, improving and flying around our gybes !
HUF really works and I encourage you to understand this vital principle of 'sailing the first third of your turn,' as highlighted above. When coaching I get all my gybers to really work on this phase of the gybe before tuning any other phase. One of my clients, Maureen, suggested that on flat water we sail the first third of the turn for three seconds and this really works. As ever, Focus on the above, Believe it will work and Enjoy the journey of progression.
Make those tacks less taxing
An efficient preparation phase is not only important in carve gybing it is paramount in carve tacking too. This gets you ahead of the game and ready to do all the footwork and rig changing after the board has inevitabIy slowed down. I extol the HUF principle again in both planing and non planing tacks so let's look at that now:
• Hands; you are looking to move your body forward and rig back in the tack approach and be in a position to get to the other side of the board/boom, and all whilst keeping speed. The first hand to move is the back one; this goes next to the back harness line so you can reach around to the new side of the boom easier. Next up is reaching your front hand forward, with a choice of either down low on the mast or at the front of the boom. This means you are ready for the next phases and still have speed across the wind.
•  Unhook; bend the arms by pulling in on the boom to release your uber taut harness lines with ease, remember to be outboard and low. Keep your sailing line across the wind and actually target being comfortable sailing fast in this position!
•  Feet; sailing fast in this powerful preparation position means the sail is light and the board stable so it is now relatively easy to then pull down on boom and get your feet out of the straps. The back one first, then the front one and then you can begin to carve/ turn upwind and move the feet forward ready for a top transition phase.
A tip to actually get your hand on the mast is to already shift your body forward and rig back. I rarely focus on negatives, but I urge you to not carve upwind in the straps before moving your hands and feet as this will leave you having too much to do, too late in the move. The tack was covered extensively last year and this feature is online now.
Kit:
Generous straps allow the feet to actually get out of the straps. Sail barefoot when at all possible to feel the board and aid feet moving slickly both in and out of the straps
Long lines enable you to sail fast over a big wind range and really assist you in both unhooking and hooking in effectively and consistently.
CONDITIONS:
Flattish water and relatively consistent wind so you can focus on your technique. Go to the right spot to get the right conditions and prepare for your moves in the right place, in the right way, at the right time on the right kit!
RRD boards, wetsuits, softwear, Ezzy sails and Pro Sport Sunblock sponsor Jem Hall. Get him live and direct on one of his highly acclaimed coaching holidays, check out his site www.jemhall.com for details. You can also follow him on twitter / Facebook and Instagram
The post JEM HALL MOVE ON UP – PREPARATION appeared first on Windsurf Magazine.
Click here to read more: Windsurf Magazine