MICRO GUIDE - VASSILIKI, GREECE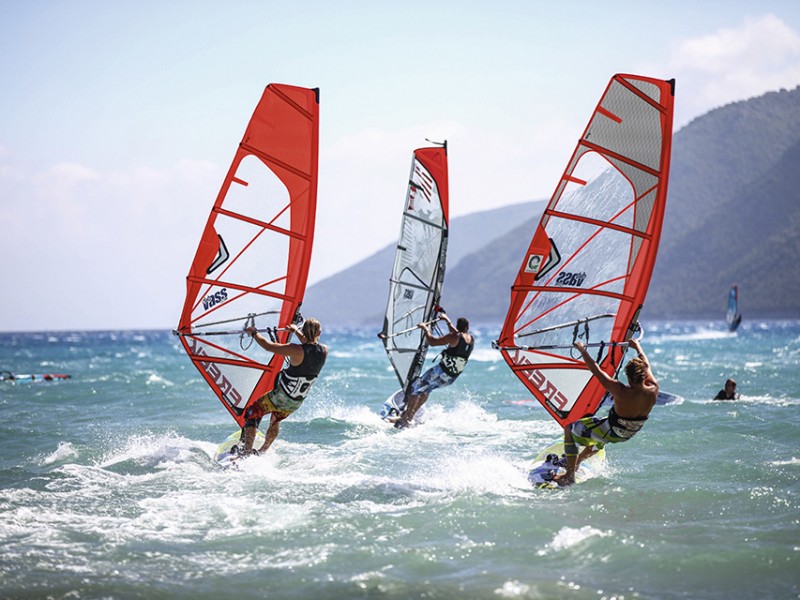 The beautiful unspoilt village of Vassiliki is world renowned for its phenomenal location with ideal windsurfing conditions 
for all levels.
Season: End of May – October
Why Go?: One of the best spots in Europe! Fantastic weather, superb and predictable wind, beachfront hotel with pool, loads of activities included – for free!
Wind Factor: Katabatic wind (called 'Eric') Morning: Force 1-2. Rising to Force 4-7 in the afternoon.
Riding on Offer: Gentle on-shore and flat water in the mornings, ideal for complete beginners and improvers. Strong thermal cross-shore (force 4-6+) and some chop in the afternoons, perfect for intermediates and all the way up to highly advanced.
Flight Factor: You can fly from London Gatwick to Preveza in just over 3 hours. Then it's a short coach transfer direct to Vassiliki (no ferry!).
Where to Stay: 
The Surf Hotel Beach Club: Beachfront hotel. Own pool. Pool Bar. Second Floor Sky Bar with best view of Vassiliki Bay!
OR
Club Vass Hotel: based at the club (on the beach), Andromeda for villa style studios/apartments 5 minutes from the club and beachfront luxury Aktes Villas, next to Club Vass. Early booking recommended!
Local Centres, Tuition and Equipment:
Club Vass Huge range of BRAND NEW kit for 2014 from Fanatic, Starboard and Severne, all expertly rigged on 100% carbon masts (including skinnies).
FREE full tuition program for Club Vass guests, with the highest qualified team of instructors anywhere, including top UK freestylers (Max Rowe, Colin Dixon and Marco Wedele to name a few).
Also Pro-coach clinics available with use of hi-tech tuition aids including GoPro video cams and Headzone. Kids' Clubs, crèche and full kids' windsurfing program with dedicated kids' instructors and kit. 
Ocean Elements (Surf Hotel Beach Club)
A great selection of 100 boards and sails from Starboard and Tushingham, rigged with RDMs and skinny booms.
For 2014, increased Kode, iSonic, Flare and junior fleets AND fully-cammed X-15s. Free use of ALL equipment and FREE RYA tuition in a friendly, inclusive environment.
VIEW LIVE WEBCAM AT OCEAN ELEMENTS VASSILIKI
Catering for first time beginners through to advanced carving, loops and all levels of freestyle – tuition for everyone. Use of SUPs, Dinghies, Kayaks and Mountain Bikes is also included along with amazing Kids Clubs. Powerboating tuition available.
Flat Day Fun: Vassiliki town has plenty of traditional tavernas, tourist restaurants around the harbour, more local eateries nearby, a good selection of bars, pizza houses, and a brilliant Greek sweet shop.
Well stocked mini markets near the hotels and on the edge of town. Car and bike/scooter hire, mountain biking, SUPs, Powerboating Courses, Sailing.
Scuba courses available. Tavernas, ice cream shops, sunbathing (27˚C – 38.5˚C!).
Local Contacts
Ocean Elements Holidays
oceanelements.com
sales@oceanelements.com
020 3468 5840

Club Vass Active Holidays
clubvass.com
info@clubvass.net
0844 463 0191
Agents
Planet Windsurf Holidays
planetwindsurfholidays.com
+44 (0)1273 921 001
Sportif Travel
sportif.travel
+44 (0)1273 844919
info@sportif.travel
International bookings welcome
The post MICRO GUIDE – VASSILIKI, GREECE appeared first on Windsurf Magazine.
Click here to read more: Windsurf Magazine