AFFAIRS OF THE HART - A LIFE LESS ORDINARY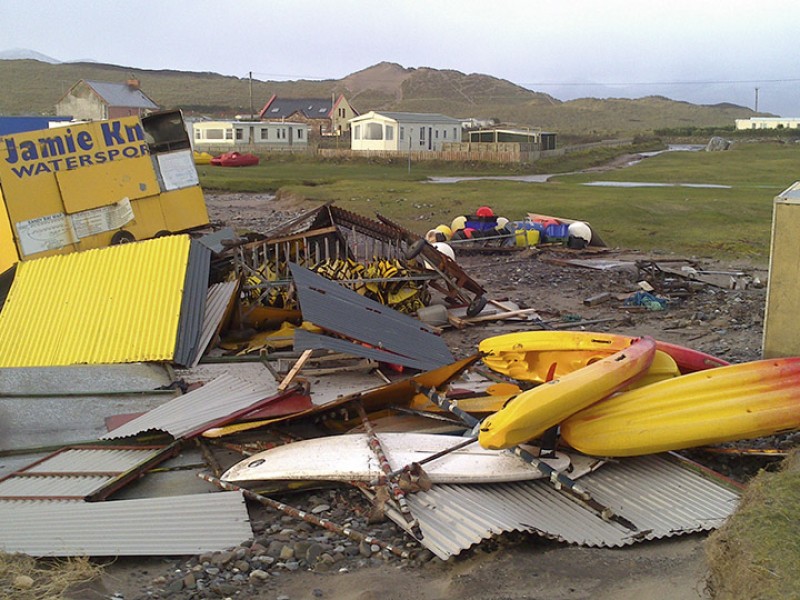 AFFAIRS OF THE HART – A LIFE LESS ORDINARY
Harty sings the praises of a true survivor…
Cloudless Irish days are all the more special for their rarity value, but actually Kerry had been bathed in warm autumn sunshine all week. On this particular day, the wind and swell had dropped, so we took a boat trip out to the Blasket Islands that lie off the tip of the Dingle peninsula – about as far west as it's possible to go on the island of Ireland. Any part of the Irish Atlantic coast in the sunshine is breath-taking, but the Blaskets are a step beyond.
On the way back I eulogised to Padraig from Cork, a relative local, about the crystal, turquoise waters caressing the whitest sands, the peace and the stunning rugged beauty of the place and suggested how great it would be to abandon over-populated England and move there. He said nothing but as we stopped in Dingle for fish and chips on the way home, he disappeared and returned holding a slim hardback book. "Read that." He said.
'Peig' is the autobiography of Peig Sayers, one of Ireland's greatest storytellers who lived on Great Blasket in the early half of the 20th C. While there are moments of joy, it basically describes the unrelenting misery and drudgery of trying to eek out a living in rural Ireland. Padraig's thinly veiled message read: "the grass may be greener Johnny Tourist, but it's wet and very slippery." We are all prone to 'holiday habitation envy syndrome.' You fall in love with your holiday destination and imagine that to live there must be eternal bliss, forgetting of course the small details like how to make a living. We love holidays because of the difference. When 'different' is no longer 'different' attitudes change. For 'peaceful and unspoiled' read 'dull and boring' as suddenly you pine for a row of shops and a wedge of cash to buy something frivolous. But despite Padraig's warning, I'd always entertained the idea of moving to Ireland. Born to an Irish mother I was under no illusions and felt the warmth of the people would more than make up for the weather. In 1984 I 'discovered' Brandon Bay on a road trip and thought one day that would be the spot to start something 'windsurfy.'
So when some 4 years later I found out that a certain Jamie Knox had done just that, I must admit to a pang of mild jealousy. Windsurfing was booming. There was the chance to make a buck, but more than that you had some world-class waves on your doorstep. The fact that, 25 years on, I am no longer so envious is in no way a reflection of the place or the people. But having plotted Jamie's journey, I realise it took a very special skill set and character to survive and prosper in the way that he has. How to describe Jamie? Hewn out of granite, with a soft squidgy core. A wild, unpredictable force of Nature with an infectious laugh somewhere between an angry warthog and a hyena with bronchitis. I first met him when we shared a cottage in Tiree at one of the first wave champs. He was (and still is) a very solid performer on the water. The fact that he didn't always reach the top of the rankings was less down to a lack of talent and more down to a fuse, which could be measured in nano-millimetres. Verbal explosions of atomic proportions would detonate daily when a race official didn't quite share his point of view. His nickname should have been 'Etna.'
No one knew from which planet he'd landed. But in between eruptions, we discovered a heart of gold and a wild imagination. In the evenings he would entertain us with crazy tales of adventures at sea, boats he built, voyages he'd made. We estimated that if he'd done all the things he said, he would have to be about 90. But although guilty of applying a drizzle of poetic licence, it turns out that a lot of it was true, and that he is incredibly capable and practical. He certainly needed to be.
JK Watersports has no right to still be in existence. We talk of 'Perfect Storms.' Over the years he's suffered financial ones, personal ones and most recently, real ones. As a business potential, those Dragons in their Den would split their sides. He's in a pricey minority sport based in a place that's remote and expensive to get to. He's selling to a tiny local population and has to make 80% of his turnover in a six-week summer period (and I use the term 'summer' loosely). The Internet helped him spread the Knox message, but his shop suddenly couldn't compete with the direct sellers and all but collapsed. And although now an inseparable and dearly loved part of the Maharees fabric, he was, in the beginning, an outsider setting up a business in a tight, local community. The scope for treading on toes and ruffling political feathers was huge, especially since he didn't exactly have a wilting-violet personality. The financial storm of 2008, that saw the end of so many businesses, was followed this winter by a real one, so severe (check out the Red Bull Strom Chaser in Kerry) that it picked up his containers, destroyed the contents and basically wiped out his school. His insurance company inevitably found a way of wriggling free. So when I called in March or organise my clinics I expected to hear the voice of a financial receiver. But no it was his ever-affable manager Jeremy. "Where's Jamie?" "He's out there welding." By the time I got there in May it was all back together. "You just gotta get on with it!" He said beaming from ear to ear in his Essex-meets-Kerry brogue.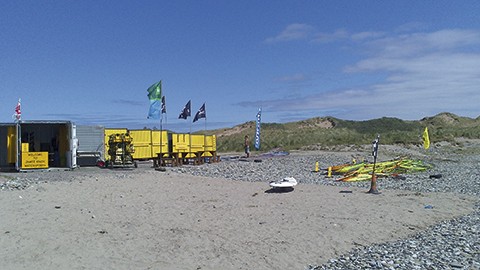 So how has he survived and prospered? Among his many skills Jamie is also a blacksmith. The things he can make, the trailers and trolleys and racks and systems that allows his school and kids club to run so smoothly, would be unaffordable. On top of that he has an amazing system – and a great spot – for teaching beginners. He reckons he can get anyone beachstarting and using the harness within a week. People love his courses and in the season he is busy enough in the school to need 14 instructors and helpers.
On top of that Jeremy, a milder less confrontational version of Jamie, but no less resilient, has turned the shop around. It's competitive and mutates in high summer from a body board, bucket and spade emporium to a hard-core windsurfing and surfing shop in spring and autumn.
And would he change anything? I asked just yesterday. And as usual I had one of those surreal conversations with him that left me none the wiser.
"I wish I'd stayed in the UK – more people to draw on – I could have really made it work. And the winters are hard – often too much wind to windsurf."
"But what about the lifestyle, the waves, the surf, the craic?"
"Yea Yea Yea – I wouldn't want to miss out on that …"
"So I guess I'll see you next year …"
Some 30 miles from Blasket on the north side of the peninsula lives a modern day Peig Sayers –  larger, hairier and altogether more masculine, who also enjoys a good day on the reef – and tells a good tale of life in rural Ireland.
PH  25th July 2014
The post AFFAIRS OF THE HART – A LIFE LESS ORDINARY appeared first on Windsurf Magazine.
Click here to read more: Windsurf Magazine