BJORN DUNKERBECK THE TERMINATOR
BJORN DUNKERBECK  THE TERMINATOR
Bjorn Dunkerbeck has dominated modern windsurfing and his mere name defined winning. So when he announced his retirement we needed to know more, but all of us in the office were too scared to ask. Decades of domination were built on his icy reputation. Having decided unanimously amongst the team that we were all cowards, we rigged the short straws so JC had to go face to face with the Terminator and left him with strict instructions not to look him in the eyes otherwise he'd probably die. Many biscuits were bitten and teas nervously drunk before he returned but thankfully he did, bringing back a must read interview with the most successful windsurfer in the world and his retirement plans for anything but pipe and slippers.
Words & Photos JOHN CARTER
(This feature originally appeared in the March 2015 issue of Windsurf Magazine. To read more features like this first, Print and Digital subscriptions are available. Prices include delivery globally for 10 x issues a year!)
Some say he should have quit while he was ahead as PWA Slalom world champion back in 2011 but the simple truth of the matter is that Bjorn Dunkerbeck just loves to windsurf and the thrill of competition is in his blood and something that was always going to be tough to let go. The last two years have been a rocky road for Bjorn on tour, the sweet smell of victory has evaporated to a certain extent with 13th and 14th places in the overall rankings; tough results to handle after years of domination! Bjorn has been publicly critical of light wind slalom, a major factor in his decision to announce the final curtain on his thirty year PWA career would be drawn at the end of the 2104 season.
So when Bjorn held his press conference in Sylt delivering this shockwave to the windsurfing world, I sensed an interview with this icon of windsurfing was imminent. The big question was when and where? My initial thoughts were to plan it right after his last race in Noumea but what if he wasn't in the mood or he had a bad race. If he did not cooperate then I could blow the whole thing! I could have snagged him down straight away during Sylt or in La Torche but it just did not seem right to interview him until his PWA career was officially terminated. So I decided to take my chances and leave it until Noumea, in my books it had to be done right after the last race after 30 years on tour. That's when the emotions would be flowing, the quiver bags finally packed and the moment he would start focusing his legendary status, skills and passion in a new direction. Come the final morning of the last day of Noumea, I knew it was going to be a hectic day. Albeau and Moussilmani were locked in battle for the title, plus there was a prize giving ceremony after the racing and the usual bag packing frenzy that goes down after an event.
Unfortunately for Dunky he made an uncharacteristic mistake in his final ever round of PWA slalom and sailed the wrong heat but surprisingly when I tracked him down in his pit area after the racing he was in a upbeat mood and was more than happy to sit down for an interview to reflect on his thirty years of professional competition. Far from being the end of the road for Bjorn, his piercing eyes still looked hungry for more glory as he answered my questions about the past, present and future. It proved to be a story not just about the end of a  journey but also the start of another chapter in the life of living legend, Bjorn Dunkerbeck!
Click here to read more: Windsurf Magazine
BEN VAN DER STEEN - PERSPECTIVE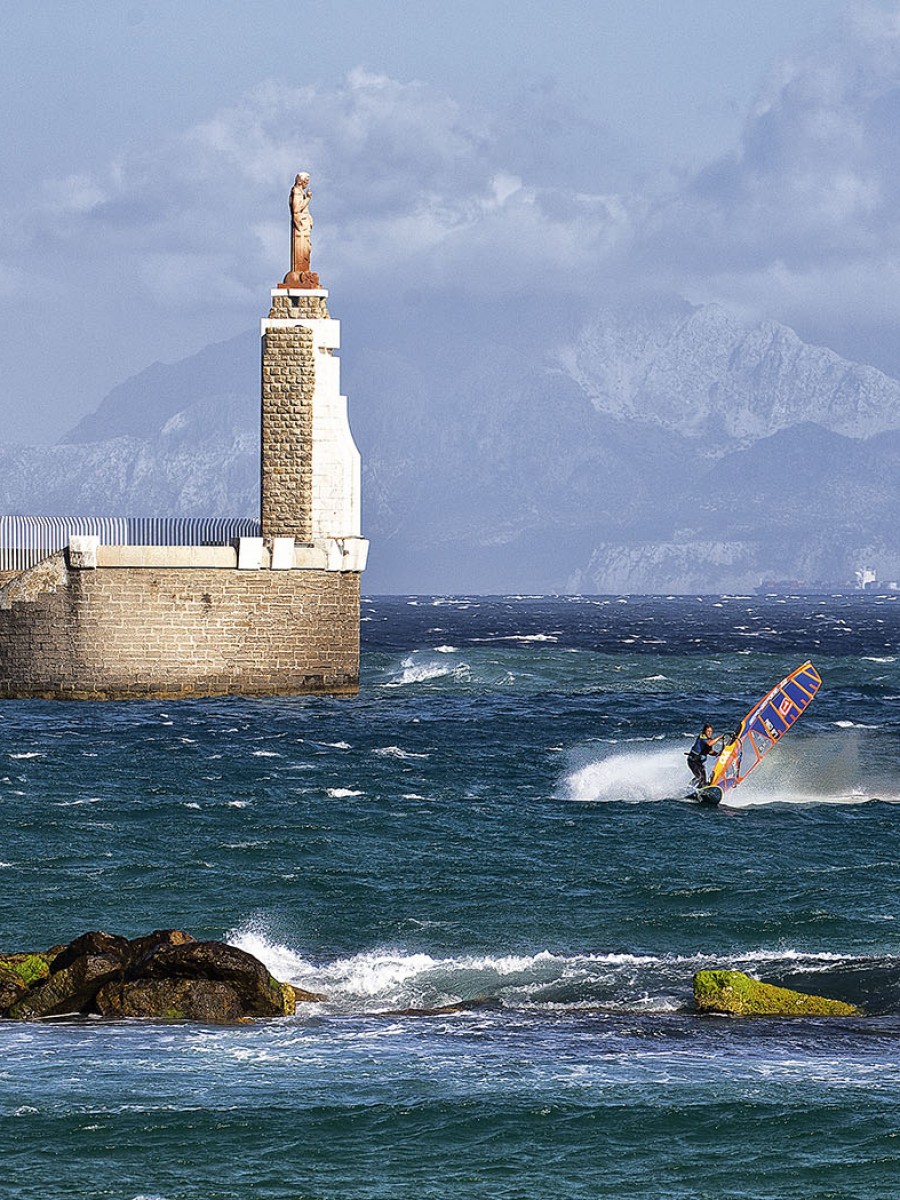 BEN VAN DER STEEN – PERSPECTIVE
TARIFA  June 2014
// After the PWA Korea event was cancelled,

Ben Van Der Steen was busting to get out there and race so he headed to the Slalom IFCA worlds in the Azores. He's probably glad he made that decision, since he came back with a World Title! Back at home, John Carter sent him out in 40 knots to sail in front of the 'Sacred Heart of Jesus' statue in front of the Tarifa Harbour entrance so he could capture this photo. Ironically, the statue faces out towards Africa, as if to welcome immigrants into Spain. This is also the spot where the Mediterranean meets the Atlantic Ocean, the southernmost point in continental Europe and a mere 11 km. across the straits of Gibraltar to Morocco.
Photo
John Carter
The post BEN VAN DER STEEN – PERSPECTIVE appeared first on Windsurf Magazine.
Click here to read more: Windsurf Magazine
Incase you have missed any of the news this week, here's a recap of the best bits:
On Monday Andre Paskowski joined us for a LIVE CHAT, while Sam Ross sung us his mantra 'Don't Stop Believing' and Boards own freestyle coaches, Phil and Danielle from GetWindsurfing, shared their upcoming plans.
Tuesday saw the Boards print editor, Amy Carter, taking the reins on the website too.
In competition news, the weekend wind provided results for both the BSA in Weymouth and the Irish Speedsailing Championships, and we received a great report from the last SWA event of the season. The BWA are set for Wales and Ireland, which starts a week today.
The top news story of the week has to be from W4CR, with SunriseSunset this Saturday, windsurfers across the country will get together, for what is a worthy cause and an event to make all windsurfers proud.
And W4CR ambassador, Bryony Shaw, is live on Sky Sports Radio today (don't worry she will upload the mp3 for those who miss it) a great opportunity for our sport to get some mainstream media coverage in the lead up to what should be a very successful year for the Olympian.
And don't forget we have Dan Ellis reporting every day, from the PWA in Korea look out for this first update tonight!
Click here to read more: Boards Windsurfing » Windsurfing News