TWS SLALOM SESSIONS POWERED BY FANATIC NORTH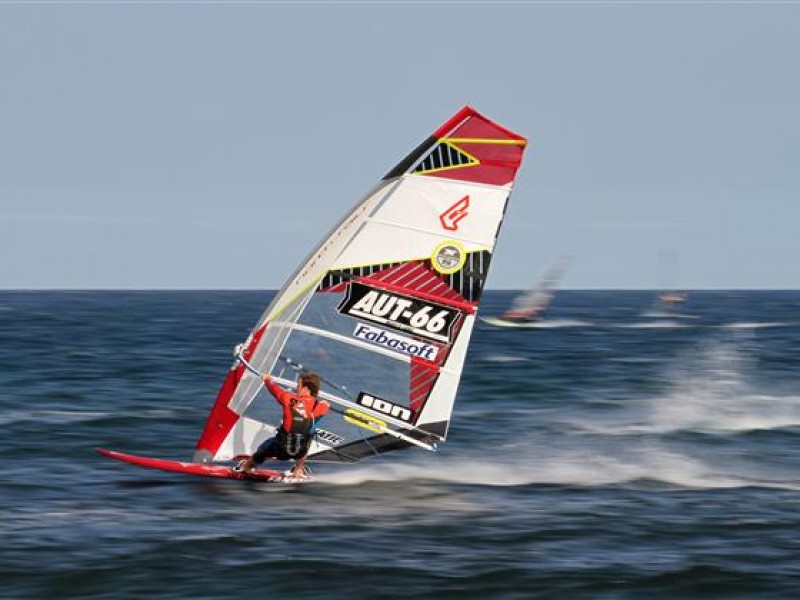 TWS SLALOM SESSIONS POWERED BY FANATIC NORTH
Those who do not want to wait this fall and winter until the lakes are completely frozen, are invited to come to Tenerife Windsurfing Solution (TWS). The sunny Canary Island where temperatures do not drop below 20 ° in Winter time. Well known as a paradise for wave riders, the Winter Slalom Sessions that TWS are organizing creates a completely new concept for riders with a need for speed and slalom fanatics.
Harco-Jan Folkerts, owner and driving force behind TWS explains: "Would it not be great if you could fly this winter with nothing more than your hand luggage on a low cost flight and then, four hours later, be on the water free-racing in your shorty with your buddies? Well, it can happen in Tenerife! We already offer the very best equipment in freeride, freestyle wave and wave. Now, starting from the end of October we offer eight complete sets of 2015 slalom North / Fanatic kits. Ready and rigged with the best carbon masts, race booms and Select fins. Windsurfing at its best with your surfing buddys , partner or just by yourself blasting for a week or more with top of the range equipment without the hassle and struggle of travelling with your own kit"
Slalom Racing, PWA clinics or just careless blasting / racing with friends
Where most rental centers limit their offerings for speed and slalom freaks to safe freeride stuff, TWS makes the difference with really high end slalom equipment. What we offer with Slalom Sessions reaches much further. If you finally want to decide with your friends who is the fastest? , you can settle the argument on the downwind slalom course. Want to work on your technique, then join the TWS clinics for gybing, tuning and trimming, all given by PWA riders.
Make it your dream holiday blasting and freeriding on the azure water, followed up by TWS with tips for the finest down winders. "Tenerife is becoming more and more a training ground for National and International windsurfers." So says Harco-Jan. "All winter long, Dutch PWA talent, Jordy Vonk, will be giving clinics at TWS. In addition, the Fanatic team riders Matteo Lachino, Piere Mortefon and Marco Lang will also be there hosting some clinics and coaching sessions. "TWS want to keep the entry level for Winter Slalom Sessions accessible. "The supply of the PWA clinics is completely free of choice and is tailored to your specific questions. It is your windsurf holiday so it's up to you if you want to go sailing on the gear or participate in the clinics! " With a monthly average of 65% of days with more than force four, your sailing hours are assured. When the trade winds blow too hard to go to out with slalom kit then there is always one of the 80 wave sets waiting for you.
TWS GPS ranking
Always wanted to know how fast you actually go? Or do you want to compare your speeds on your own equipment at home, compared with you sailing the brand new PWA material? Tenerife Windsurfing Solution have several GT31 GPS devices ready for you. This winter all the different personal speed records will be published in the TWS GPS speed ranking. A unique ranking, with all riders on the same equipment competing for the fastest speed with each other. The windsurfer setting the fastest speed of the season will win a week of windsurfing in Tenerife!
Highlights
No top holiday is complete without great photos; "For those who like to take some nice holiday snaps home, or want to see themselves on video we have several GoPro mast mounts ready. We also have a drone to film your jibing around the marks, just like the pros do it in their annual photo shoots. Finally, we have a staff photographer at TWS that shoots photo's in magazine quality stills from the start boat or with the underwater camera housing to shoot images at the most exciting angle."
Slalom Winter Sessions run from October till June. Info and registration via www.tws-windsurf.com. TWS can also help with housing and flights.
TWS facts and figures
You can leave your winter wetsuit at home due to an average air temperature of 22 ° and a water temperature of 19 ° so even in the winter, just windsurf in your shorty! Besides the high end Fanatic / North slalom equipment for the Slalom Sessions, Tenerife Windsurf Solution offers you also 90 complete freeride, wave, or freewave sets from eight different brands. With more than 65% wind days per month in the fall and winter, your sailing days are already assured!
Fast stuff
Normally the guys wanting to go fast need to be satisfied with a faster set of freeride stuff offered by most rental centers. TWS goes one step further this winter. For the Winter Slalom Sessions Tenerife Windsurfing Solution has eight high end but accessible slalom sets ready, with Fanatic Falcons in sizes 111 and 130 litres and a few 111 litre Fanatic Rays. Slalom sails from North Sails in sizes 6.6, 7.7, 7.9, 8.4 and 8.6 (WARP and S-type SL) so you always find the perfect power. All sails are rigged with the correct 100% carbon masts (North Platinum) and all the boards are equipped with the fastest fins from Select. Full carbon platinum booms of North complete the high end set ups.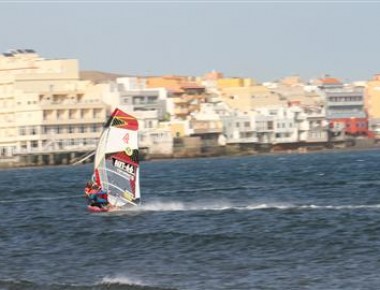 The post TWS SLALOM SESSIONS POWERED BY FANATIC NORTH appeared first on Windsurf Magazine.
Click here to read more: Windsurf Magazine