DIANI BEACH MICRO GUIDE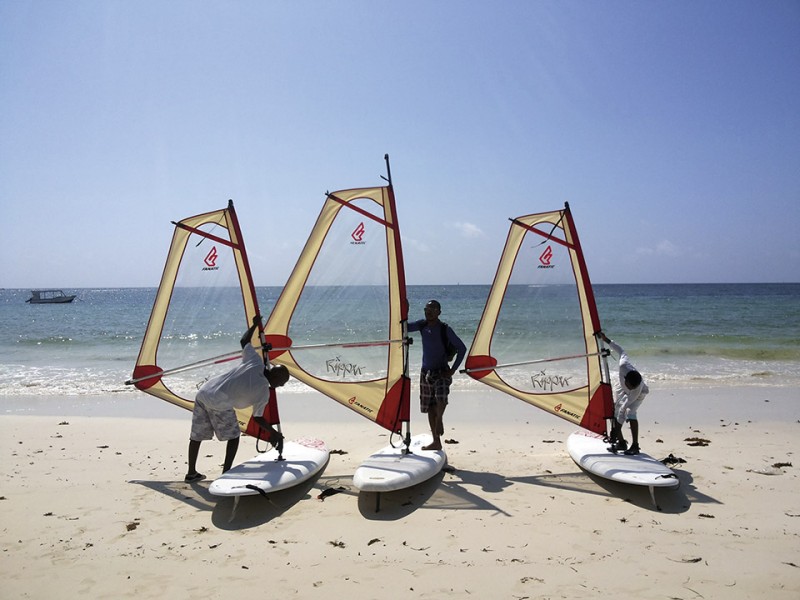 DIANI BEACH MICRO GUIDE
Opened first in December 2012 with the Chui Adventure Centre – a multi activity centre at the award-winning Leopard Beach Resort & Spa, Sand and Sea Water Sports Centres offer a wide range of activities to suite every interest and level of experience. In July 2014 Sand & Sea Water Sports Centres are opening their second custom built base at the Forty Thieves Beach Bar in conjunction with Airborne Kite Centres. With wet and dry storage facilities, and a dedicated team to help set up, launch and pack up, this centre will be dedicated to windsurfing and kitesurfing. With a wide beach, quiet lagoon and the promise of a cold Tusker Beer or exotic cocktail at the end of the session, Forties offers the perfect location for an epic holiday.
With Sand & Sea Watersports Centres.
Season: Mid December to end of April, June to October.
Why Go? With 300 days a year of constant cross-onshore winds Kenya is a dream holiday destination for windsurfers. No crowds, beautiful warm waters and long white sandy beaches.
Something for everybody. Hot sun and easy beach access.
Wind Factor: Kenya has two windy seasons historically called the trade winds. The Kaskazi, which blows from November to April and the Kusi, June to October. In the morning there is a gentle on-shore wind which turns into strong,constant wind in the afternoons.
Riding on Offer: Long, wide sandy 5km beach with shallow waters so great for learning – stress free. Nearby reef makes great playground for free riders too.
Where to Stay: Diani is blessed with a wide range of accommodation options suitable for all budgets. Flamboyant, with 12 en-suite, sea facing rooms offers calm and serenity after a day on the water. Family run, Flamboyant offers all inclusive services with seafood orientated cuisine highlighting the local coastal specialities. The multi award winning resort – Leopard Beach Resort & Spa – offers all the facilities you would expect from a world class holiday resort. Set in large, colourful, tropical gardens with en-suite rooms for every budget; from garden view, to beach front to luxury villas; 6 restaurants catering to every taste. Stilts Backpackers offers simple tree house accommodation aimed at the adventurous traveller; set in 7 acres of tropical forest and just a short walk from the beach. Set in amongst the tree tops, it has a relaxed atmosphere in a convenient location.
Flight Factor: Flights to Mombasa International Airport – 8 hours from UK.
Equipment and Tuition: Use up to date Fanatic equipment for windsurf lessons and rentals. Rental packages available. Lessons per hour and are offered in English and German
Flat Day Fun: Stand Up Paddle, Kayaking, Scuba Diving, Fishing, Sky Diving, Snorkeling, Mt Biking, Safaris.
Contact:
Joan – +254 708 358 095,
info@watersportsdiani.com
www.watersportsdiani.com
Facebook: watersportsdiani
The post DIANI BEACH MICRO GUIDE appeared first on Windsurf Magazine.
Click here to read more: Windsurf Magazine