MICRO GUIDE - PORTO POLLO SARDINIA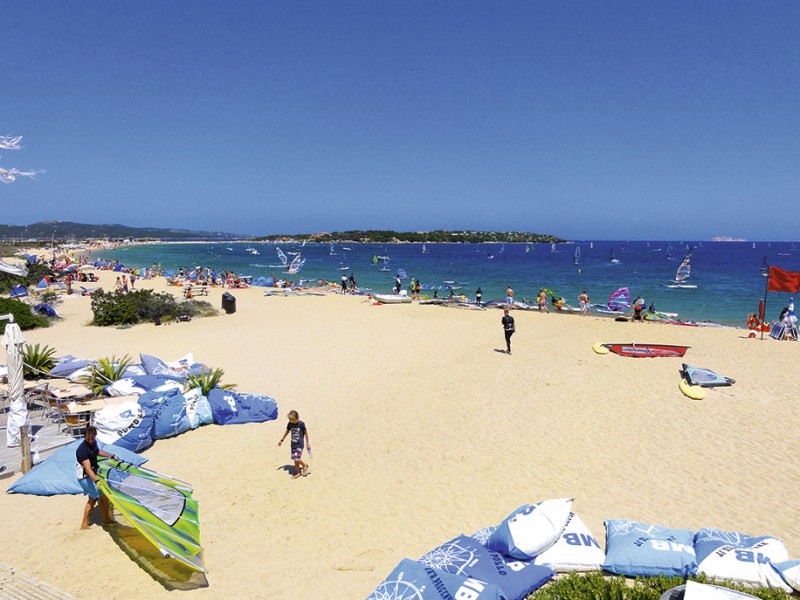 WINDSURF PORTO POLLO SARDINIA
Sardinia is one of the most stunning islands in the Mediterranean. A true hidden gem! For windsurfers and non-windsurfers alike you'll find something here for everyone.
Season: Easter until End of October
Why Go?: White sandy beaches, crystal clear water as fine as the Caribbean – and only a short 2-hour flight away
Wind Factor: Sardinia has four winds depending on the time of year. The spring brings the Tramontana from North to East at 6 – 8 Beaufort. In the summer the Poniente is South/West bringing 4-8 Beaufort and in the autumn the Scirocco from North Africa with 5-6 Beaufort and occasionally up to Force 9.
Riding on Offer: Porto Pollo has 2 beautiful white sand beaches, one for windsurfing and one for kitesurfing. The Windsurf Village and MB Pro Center are located on the far end of the right hand side windsurfing beach. From flat water to bump and jump, you will be well catered for at this spot. In the morning there are always flat conditions and the warm, clear turquoise water can reach 27 degrees in the summertime, making it perfect for beginners. In the afternoon, a strong breeze prevails and presents exciting conditions for improvers.
Flight Factor: Low-cost flights to Alghero or Olbia available. 2-hour flight time from the U.K. Rental Cars available from www.rent.it
Where to Stay: Windsurf Village has 65 apartments for 2, 4, or 6 people within walking distance of the beach. All apartments are fully furnished with a kitchen for self-catering. Sea view apartments also available.
Local Centres, Tuition and Equipment: The MB ProCenter has 200 of the newest RRD & JP boards and NeilPryde Sails.
They offer windsurfing and kitesurfing lessons for all levels as well as a Kids' Windsurfing Academy with special kids equipment.
Flat Day Fun: All weekly rentals packages include free use of the SUP boards, snorkel gear, skimboards, volleyball and kayaks. Mountain bikes, diving gear and Hobie Cats are also on offer for a fee.
Local Contacts
Windsurf Village'
www.windsurfvillage.it
info@windsurfvillage.it
+39 0789 704075
MB ProCenter
www.procenter.it
info@procenter.it
+39 0789 704206
The post MICRO GUIDE – PORTO POLLO SARDINIA appeared first on Windsurf Magazine.
Click here to read more: Windsurf Magazine

Fatal error: Call to undefined function advman_ad() in /home/peternw29/domains/windsurfaddicts.com/public_html/wp-content/themes/lightword/index.php on line 41