CRETE - TRAVEL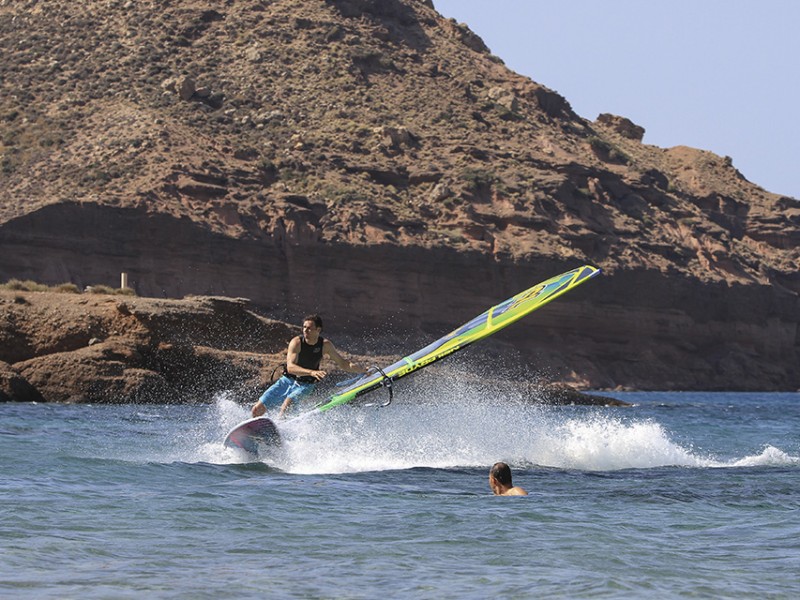 CRETE – TRAVEL
Crete, the largest Greek island and the southern most island in the Mediterranean is well known for its archeological sites, Pythagoras, its excellent olive oil and warm climate. But it's less known that the eastern coastline of Crete is an ideal playground for windsurfers, with strong Meltemi winds, especially in the Palekas
tro area. Pro freestyler Maarten Van Ochten went exploring and came back armed with this comprehensive spot guide.
Photos Alexander Zachen, Jan de Vriendt, Daniel Stano & Surf Island Club
(This feature originally appeared in the April 2014 issue of Windsurf Magazine. To read more features like this first, Print and Digital subscriptions are available. Prices include delivery globally for 10 x issues a year!)
I got to know Hannes & Rik from Freak Surfstation a few years ago during the European Freestyle Pro Tour (EFPT) contest in Palekastro. I had some good memories of this competition because I finished 5th and we had good winds everyday! When Hannes invited me back for another visit I was immediately excited! Back in 2009 we had a great mix of conditions, from flat 5.3 to bump 'n jump 4.0. I was looking forward to these conditions, the warm water and the cool freestyle spots. Right after the Bonifacio Freestyle Project in Corsica I dropped off Steven Van Broeckhoeven at his place in Belgium and went home to change bags. 9 hours later I was on a plane to Crete. I was looking forward to it and after a 3-hr. flight my plane touched down in Heraklion. Jan from Freak mountain bike centre picked me up and after a 2-hr. drive with some incredible views, we arrived in Palekastro. We agreed to get up early the next day and have a session at Kouremenos beach, the main spot in Palekastro and shoot some pictures. Forgetting the 1-hour time-difference between Crete and Holland I was late and had to rush to the beach and sticker-up my brand-new 5.1 Wizard. After such a long winter I'd forgotten how great it is to sail in boardshorts. At Kouremenos beach, the Meltemi blows sideshore from the left. Close to the beach the water is completely flat and outside there's some nice chop for jumping. Summer is the main season for the Meltemi. It starts to build from around 9 a.m. to reach its strongest point just after midday. Usually it's windy the whole day and from 5 p.m. on the wind eases a bit and tends to get 'smoother'.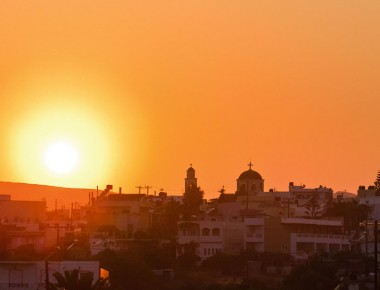 Completely starved afterwards, Hannes took us to a nearby Taverna and ordered me a Greek salad with a huge Souvlaki (Greek meat stick) on the side. The food in Crete is generally really tasty, the vegetables are always fresh, the olive oil's homemade, there's fish, chicken, lamb – delicious! A second sailing session followed and I promised I'd keep to the regime of sailing at least twice, mixed with the occasional MTB trip here and there too.
SPOTS
KOUREMENOS
Kouremenos is the closest beach to Palekastro, in the beautiful Kouremenos bay. This is the main windsurfing spot in the East of Crete, probably even on the whole island. The summer Meltemi accelerates between two hills, meaning the wind here usually stronger than anywhere else in the region, especially if it's from the W or NNW. Big sandy beach, no hazards or dangers. Very safe spot. The Meltemi blows sideshore from the left. The water's very flat close to the beach. Further outside there's nice chop for Bump 'n Jump! If the wind direction's more N than NW, some waves make it into the bay too. The Freak surf station's located in the middle of the beach, offering lessons for every level from beginner to advanced.
www.freak-surf.com
CHIONA
Located just downwind from Kouremenos, behind the 'Castri' mountain, Chiona is sailable in a Meltemi but is gustier than Kouremenos. But the occasional S wind, unusual in summer, bring perfect conditions in lovely surroundings with the Castri mountain and a nice sandy beach. S to SW is really good here, SE can be very gusty. Your best call when staying in Palekastro and S winds are forecasted. Flat water conditions, with some deeper chop than Kouremenos.

XEROKAMPOS
A small village on the SE coast, just down the road from Zakros. Xerokampos is a 30-min. drive from Palekastro. Probably the best spot in S wind. The Meltemi is also sailable, but gusty. WindGuru's not the most reliable website for forecasting South winds. It's better to check for these on www.poseidon.hcmr.gr. 
The beaches are fantastic here with white sand and Caribbean-like colours. The water's also a few degrees warmer here. S winds are side-on from the right and produce a mix of deep chop and playful small waves (max 1 m.) but the surf never gets very powerful. Overall it's an easy spot to sail. Winter, autumn and spring are the best times of year here while the Meltemi's quieter and the S wind has more chance to blow. No real hazards or dangers, apart for some small rocks in the middle of the bay, which are all visible at all times.

SITIA (CITY)
Sitia is the biggest city in the region. It's about a 15 to 20-min. drive from Palekastro. You can windsurf in the bay of Sitia. The conditions are similar to Kouremenos for freeride, freestyle and bump 'n jump (wind from left). Outside, the chop is much bigger than at Kouremenos. The best wind direction here is Meltemi (W to NNW) although there's no venture effect to accelerate it, so expect to use bigger sails than you would at Kouremenos. A good option to check on the days when Kouremenos is too windy where the largest size you'll probably use is a 5.3. Expect full beaches and much more developed tourism. The port of Sitia is charming and nice to walk around in. Again, no hazards or dangers.
SITIA (THE HOTEL)
On the road between Sitia and Palekastro there's a big concrete skeleton of a unfinished hotel. In very strong Meltemi wind this spot offers 4.7 or 5.3, side-on wind from the left. It's rare to score a session here and know when to call if it'll be on.Conditions here are wavy with pretty powerful waves for jumping and even some riding. This is NOT a beginners' spot as the very small beach is surrounded by cliffs with a tricky launch. When it's very windy at Kouremenos (7 Bft. or more) this spot is definitely worth checking out!
FANEROMENI
Next to the monastery of Fanaromenis (Exit 10, Sitia) is where the largest and most powerful waves in the region break. This spot only works a few days every summer after a couple of days of very strong Meltemi. There's no venturi effect so, if it works, you'll be sailing on sails around 5 m. The more N the wind is, the more onshore it'll be. The waves can reach mast high and break very close to rocks. It's advise that only expert wavesailors launch here, because already a lot of equipment has been destroyed by the powerful swell! FACTS
GETTING THERE (Heraklion – Sitia)
The main airport is Heraklion, 2 hrs. from Palekastro. Sitia is only 20 minutes away but at the time of this trip the airport was still being built. Charters will fly into Sitia from 2014.
There are direct flights to Heraklion from: London Gatwick, London Heathrow, Belfast International, Birmingham, Bristol, Cardiff, East Midlands, Edinburgh, Glasgow International, Leeds Bradford, Manchester and Newcastle  with the main operators being FlyThomasCook, Thomson Flights, Norwegian, Easyjet, Jet2, AirBerlin and Aegean Airlines.
• If you take your own equipment, it's best to reserve this in advance. Get information from your airline. Prices vary from 40 to 100 euros for 20 to 32 KG
GETTING AROUND
It's best to rent a car, which is the fastest and easiest way to get to and around the eastern end of the island. There are buses from Heraklion and Sitia to various places on the island. Prices for rental cars vary, but the average is 150 Euros per week. I chose to rent from cars4rent.gr because they offered me the best price but you can rent with Hertz, Avis, Alamo, Eurocar, Autoway, National Sixt, Thrifty, Thebestcars, Megarent, Athens Cars and more. The roads are generally in good condition and the average driving time to Kouremenos is about 2 hrs. from Heraklion and only 25 min. from Sitia.
You can search weather info on WindGuru
(Palekastro/Kouremenos).
WindGuru always underestimates the wind around Palekastro. If the direction's NW (Meltemi) you'll definitely be planing even with just 8 knots forecasted. www.poseidon.hcmr.gr is more accurate. The Freak Station website (www.freak-surf.com) has more statistics and info.
WHAT TO WEAR
In spring and autumn, a shorty/short arm is perfect, for summer all you need are boardshorts/bikini and rash vests. If you've been short on water time before you visit, you might consider taking some gloves, as you'll be sailing a lot and your hands may suffer! There's no need for booties. As for normal clothes, some shorts, T-shirts, flip-flops and sunglasses. Don't forget sun cream with a factor above 20. Bring a sweater for the evenings as well.

ACCOMMODATION
In and around Palekastro you can find several small hotels.
• Castri Village Hotel located on the hill, upwind from Kouremenos. They have several studios/rooms and apartments. Breakfast service is available. This place has a fantastic view over the Kouremenos bay, a nice swimming pool and fast internet. www.palaikastro.com/castrivillage
• Hotel Hellas: A small hotel just next to the main square in Palekastro. Small rooms with a restaurant on the ground floor with breakfast service. Www.palaikostro.com/hotelhellas
• Chiona Holiday Hotel: This small and affordable hotel is located in between Palekastro and Agathias, in walking distance of the Palekastro square. Swimming pool. www.hionaholiday.gr
• Marina Village Hotel: located in the middle of the olive groves, with a nice swimming pool.
You can also find numerous apartments or studios to rent in and around Palekastro. Here's a selection:
•  Kouremenos Apartments: Located just uphill from Castri village with just about the same amazing view. Beautiful garden and swimming pool and a very relaxing place to stay. Great value and the owners are super friendly. Expect to go home with a bottle of their own homemade olive oil and some fresh vegetables from their garden. www.palaikastro.com/kouremenos_apts/index.html
•  Casa di Mare: nice apartments approximately 70 m. away from the beach, with a swimming pool. www.casadimare.com
•  Thalassa apartments: walking distance from the beach. Very nice, modern apartments with a beautiful view. Attractive prices. www.palekastro-thalassa.gr
•  Glaros apartments. Located at a stone's throw from the beach, walking distance from the Freak surf station.
For more information check:
www.palaikastro.com/hotels/
Or, if you'd rather choose a package deal (flight, accommodation, gear ]) we advice you contacting the following tour operators:
www.oceansource.net/windsurfing_in_crete.asp
www.sportif.travel/destinations/83/Greece/Crete_-_Palekastro
www.planetwindsurfholidays.com/resorts/greece/crete/
CLIMATE               May     June      July     Aug      Sept    Oct
Air temperature (C°)     25            26              28           28            26            24
Water temp (C°)            20            22-24        24-26      26-27      25           22
Days wind > 4 bft.         21             25              28            27            20           18
WEST CRETE
West Crete, unknown as an extreme water sport destination till the latest years, can be a surf paradise for both beginners and pros of windsurf-surf-kitesurf . If you need more info about the place, accommodation or how to get there, you are welcome to visit surf Island's web site: www.surfisland.gr
Surf Island Club
Surf Island's activities include Windsufing, Kitesurfing, Surfing and SUP rentals & lessons.  Surf Island station, located in Elafonisi south-west Crete, (75km from Chania, one and a half hours by car). With a beautiful lagoon and a south-facing swimming beach both with crystal clear water and pink sand comprises an exotic scenery found only in a few places on earth. The location is exposed to the north-west wind of Ionian sea and is a side-shore spot with steady wind and no gusts or changes in direction. During summer months the thermal wind guarantee planning conditions almost every day with force 4 to 6 beauforts. "Surf Island" Elafonisi station is working daily from 1st of May until the end of October. Periodically is operating a second station at Falasarna spot when the conditions are suitable for windsurf or surf activities. Surf Island can organize special trips to other spots too for Surf or Windsurf around West Crete.
Surf Island club offers:
• Online booking discount 10% for equipment or training
• Special low season (May and October) discount 30%
During all summer months, within easy driving distance from the main station, interspersed special events are organized with traditional local feasts, theatrical nights, visual arts exhibitions, concerts, traditional music and dance groups. Close to Surf Island Club at local taverns you can experience the genuine Cretan hospitality and cuisine. Ecologically minded, Local's traditionally cook is simply wonderful freshly made with lots of choices. Cretans all over the island will make you feel most welcome by giving guests advises, help and sharing even their goods with visitors. Surf Island Club on Crete is a destination that surely offers something that a few Windsurf destinations can offer: true adventurous Windsurf-Surf holidays or relaxing moments under the sun at the magnificent wild nature.


GENERAL INFO
GREECE

Most Greeks speak excellent English and sometimes even German and French too. If you're interested in learning Greek you can take classes at 'Success language school' Palekastro, who offer courses for beginners and experts, tailored for people on holidays. Most tourists in the area are from France, Germany, Austria, Belgium, Holland, England and Russia. The locals are very friendly and genuine. There's a good mix of locals and tourists, which makes for a nice atmosphere. There's no mass-tourism around Palekastro, a good thing for windsurfing and windsurfers. One of the reasons for this is that there a lot of historical sites and there's still so much to be discovered. Recent aerial pictures from the region indicate that in the Kouremenos area there are possible archeological findings that could be the biggest in the last 40 years! Because of this all the high-rise hotels can't get a permit to build hotels. Hopefully that'll mean the good vibe can stick around for a good while. There is larger-scale tourism around Heraklion, with Chersonnissos and Malia as the main party places. There are heaps of hotels there, as well as young English and Dutch kids looking for fun in the sun..
FOOD & DRINK
The Cretan food is very healthy and varied. Everything is fresh and people will let you taste a lot of things wherever you go, just because they're so proud!
Islanders have higher estimated lifetimes, apparently because of the so-called 'Cretan Diet' and healthy lifestyles. Coffee is a popular drink in Crete. In the square there are several places to drink a cup of coffee or an ice cold 'Frappé'. Center Bar is the preferred place by the locals with a big variety of drinks.
Every meal is finished with a small glass of 'Raki', a very strong alcoholic drink, made by the locals.
Two different restaurants will have two different Rakis, made by themselves. Each September there's a big traditional party 'Casani' (brewing of Raki). Everybody barbecues on that day and tastes all the different sorts of Raki.

EQUIPMENT RENTAL/ LESSONS
Freak Surf Station's located in the middle of Kouremenos beach and offers shelter from the wind. Even if it's 6-7 bft. on the water, you can relax without getting sandblasted. There are trees for shade and sunbeds available for rent.
•  Freak has the most recent JP/NP material with carbon masts from 30 to 70% and X6 booms. SUPs are also available.
•  A small surf-shop sells rashies, t-shirts, shorts, harness lines, gloves, booties etc.
•  You can get lessons for every level from beginner to expert.
•  Open daily 10 a.m. – 6 p.m.
•  Storage is also available, check for availability first!
More info: www.freak-surf.com
NO WIND?
In and around Palekastro there are a lot of archeological sites, ancient Minoan towns and museums to visit. In winter, decent swell hits the island and the surfing or SUPing can be very good! Scuba diving is spectacular here and can be done almost everywhere. In Sitia and the world famous 'Vai' Palm Beach you can take a jet-ski for a ride or enjoy banana-rides with your friends.
Locals and surfers  get together at the 'Cafe Bar Center' for beers and/or cocktails. For partying you can go to Sitia where there's a lot of nightlife as well as Chersonissos and Malia.
Mountainbiking
Discovering the region on a mountain bike is definitely worth it to access places you can't get to by car. In summer it doesn't get too hot thanks to the Meltemi. You don't have to be a dedicated mountain bikerto do a tour, because the Freak Mountain bike centre offers various tours for all levels, short and long distance. You do need trainers/suitable footwear. Check out the website for more information:
www.freak-mountainbike.com
Rental bikes: BMC high quality bikes Guided tours or tours with a bike-GPS are available in English, French, German, Greek and Dutch.
INFO & TIPS
•  Navigation: GPS works the same (even better) than in Western-Europe
•  Normal mobile roaming costs are the same as in other EU countries
•  SIM cards are sold starting from 5 euros, phone reception is generally good. Handset prices similar to elsewhere in EU
•  Time difference: +2 hours U.K., +1 Benelux and Germany.
•  Supermarket prices are about the same as elsewhere in Europe, but it's much, much cheaper to eat out here. Almost cheaper than cooking yourself!
•  Credit cards work in most places
•  There's a doctor in Palekastro and a Hospital in Sitia (15 min from Palekastro)
•  Pharmacy in Palekastro
•  In general there are no hazards or dangers in the waters, except for some small rocks and the occasional sea-urchin (not in Kouremenos and Chiona)
•  Fuel prices are similar to rest of EU
•  Water from the tap is drinkable
•  Kiting is possible, but is quite rare due to difficult kite-launching
I would like to thank everyone who made this trip possible: Freak surf & Mountainbike station, JPAustralia, Castri Village Hotel, Surfmagazine and the very friendly locals for their hospitality, tips, advice – and of course the great food!
Maarten Van Ochten
The post CRETE – TRAVEL appeared first on Windsurf Magazine.
Click here to read more: Windsurf Magazine

Fatal error: Call to undefined function advman_ad() in /home/peternw29/domains/windsurfaddicts.com/public_html/wp-content/themes/lightword/index.php on line 41