RARE DAY AT HONOLUA BAY
Words Zane Schweitzer // Photos Kapule
21st January 2014
I woke up early at 4 a.m. to help my dad Matt and brother, Matty, load up the boat so they could head to Jaws with a photo crew to shoot the action. T
he waves were meant to be massive, but I'd already decided to stay on the West Side of Maui to surf some fun secret spots and hopefully score.
Before leaving my house it started to pour down cats and dogs. I waited a bit and, at the last minute, decided to load my windsurfing gear just in case this storm would bring in some storm surf conditions!
(This feature originally appeared in the  March 2014 issue of Windsurf Magazine. To read more features like this first, Print and Digital subscriptions are available. Prices include delivery globally for 10 x issues a year!)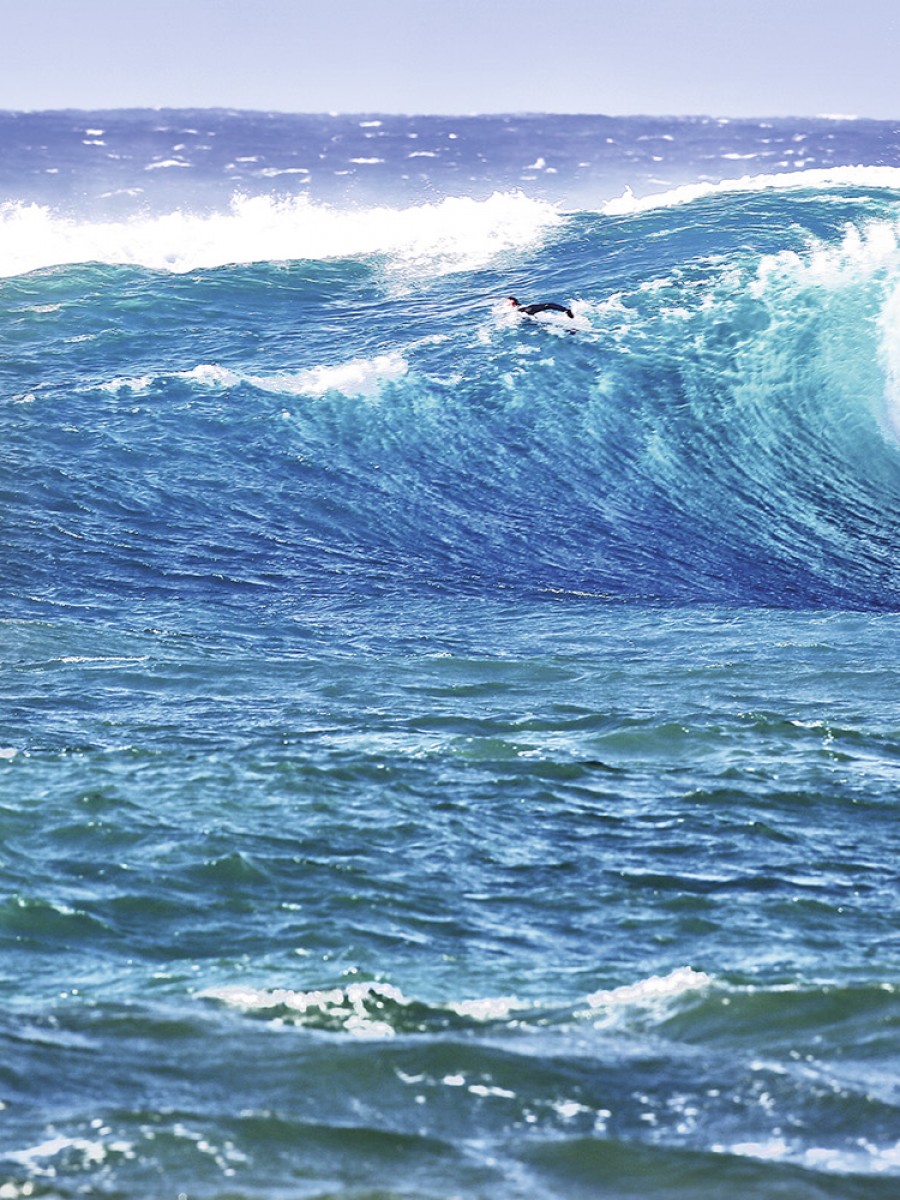 BIGGEST SWELL OF THE SEASON
I headed straight up north to my home break at Punalau where I scored 6-12ft Hawaiian style barrels with a few good friends! I surfed for five hours before the wind picked up and everyone went in. I decided to catch a few more, then that turned into just one more – and just one more, until I broke my board and had to swim in! By the time I was back on dry land, the wind had built quickly from 10 to 30 knots. It was time to switch up the toys from the truck of goodies!
HONOLUA TURNS ON
I rounded the corner towards Honolua Bay and what I saw was baffling. A once-in-a-lifetime opportunity. North west wind and solid 10-ft. waves pounding through. It was pretty big and messy, but a few sets between the closeouts were super fun looking. I decided to try to rig up and launch down the coast from Slaughter House since the wind was pretty sheltered inside Honolua Bay itself. When I was ready to head out, sets started rolling in that were much bigger than earlier. I went for it and tried to time it right to get out in-between the light, sheltered wind on the inside and the big 5-8-ft. shore pound. It didn't work and I ended up worked and rag dolled for 30 minutes before deciding it was too light to get enough speed to make it through the narrow little bay that was starting to close out.
Option number two wasn't ideal either, it definitely was sketchy! I hiked down the steep and slippery trail from Honolua lookout called, 'Hole in the Brain' with all my gear and jumped off the gnarly rocks. From there I had to swim out to the wind line! The wind direction wasn't perfect for down-the-line sailing, but it was an amazing opportunity to windsurf this legendary break that I have been surfing my whole life! My Dad and Wayne Cochran were the only other people to windsurf Honolua, I believe – that was way back in the 80s. On the way out it took me a ton of tacks to make it out through the narrow, almost-closing-out channel. The whole time I was thinking how cool it was to be out here windsurfing at one of my favourite places in the world. I shook my friends' hands who were out there trying to surf in the wind and big waves then headed out to the peak.
First wave I caught from outside of the point, almost at the top of the Honolua Bay, I had such a light-wind take-off, that I dropped into the wave in a place that I very well could've been dropping in on my surf board. I rode it all the way through to Keiki bowls on the inside and got hung up at the top while trying to kick out! I was going down-the-line completely downwind and clew-first when trying to kick out the back. With the light wind I knew I wasn't gonna make it over the thick lip, so tried to push my rig out over the back and, shortly after, took a nice tumble in the Honolua washer machine! My rig came so close to going in to the rocks, It would've been a little bit of a buzz kill to have a one-wave session, as it easily could've been. If you think Ho'okipa rocks are gnarly, they're nothing compared to West Maui …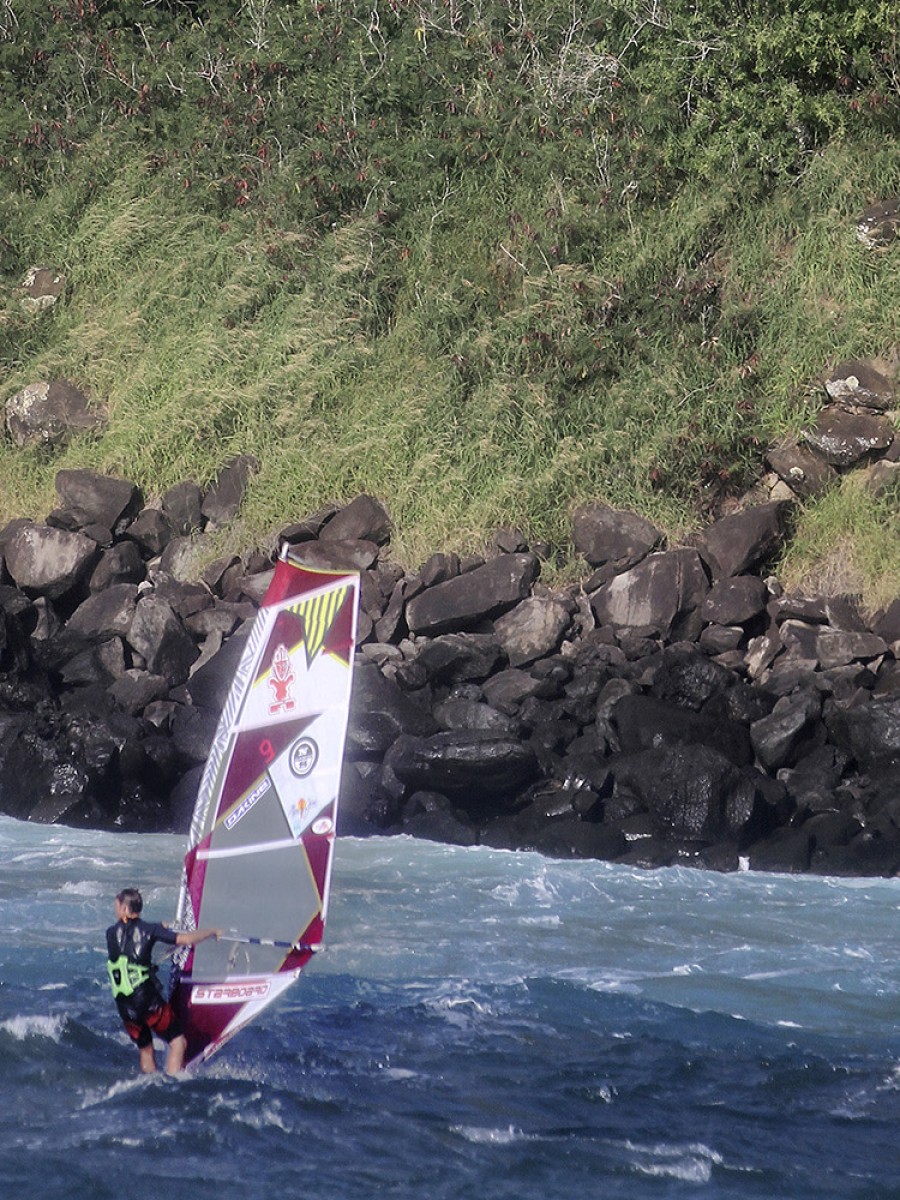 A FRIEND IN NEED
On my way back out a big clean up set washed through, the only three guys that were out in the water surfing got smashed. Two made it in but one of my friends broke his leash and was struggling to stay above water. I started to hear him scream for help and calling my name! This is when the sh** got serious. He'd got nailed by another monster 10-foot Hawaiian cave-kegger and I was worried.
I sailed towards him and he popped up swimming for the channel and waving his hands. By the time I made it to him he was choking up water and panicking. I let him rest on my board until he caught his breath, he desperately was asking for me to drag him in but there was barely enough wind to get me in through the inside as it was. I kept an eye on him as he started the 200-300 metre swim in. It took him a while to make it back in and he ended up taking his wetsuit off and leaving it in the water to help him swim in better. This really confused me, because I lost track of him after this since I was looking for a long-sleeved black wetsuit top. Minutes later I heard Sirens and an ambulance, then, just as I was seriously about to start freaking out, I saw him laying on the rocks on the inside – half naked! I was happy to see him okay and more than happy to continue catching a few waves until the wind completely died shortly after!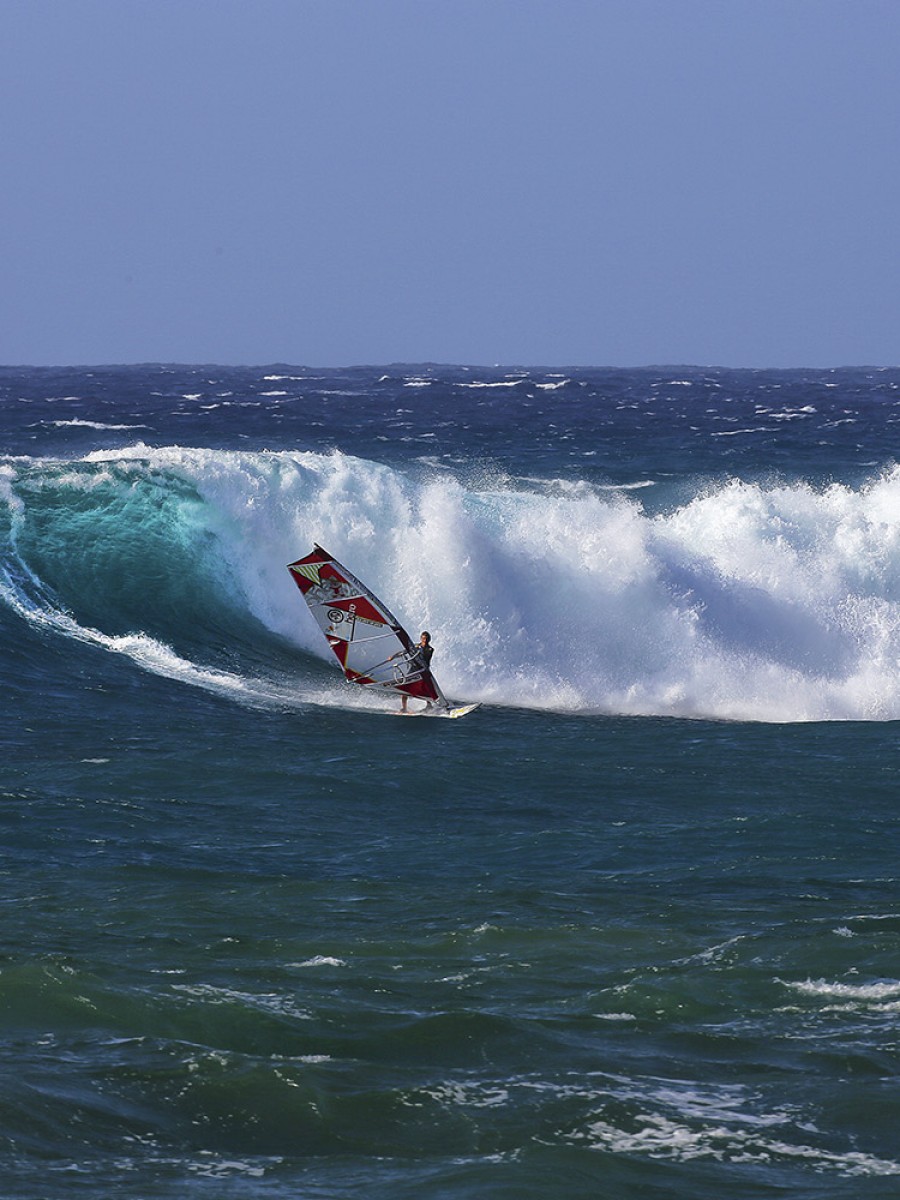 HOME AND DRY!
That was a 'Mission Successful' for me, barrels all morning surfing – and windsurfing fun ones at Honolua! A solid 7 hours on the water was enough to call it a day! See you out there! ZS
The post RARE DAY AT HONOLUA BAY appeared first on Windsurf Magazine.
Click here to read more: Windsurf Magazine

Fatal error: Call to undefined function advman_ad() in /home/peternw29/domains/windsurfaddicts.com/public_html/wp-content/themes/lightword/index.php on line 41