2016 SUP INTERNATIONAL CALENDAR - ON SALE NOW!
The 2016 SUP International Calendar by John Carter
Stock up for Christmas! A collection of high quality awe-inspiring images from John Carter, all shot on location at the world's best paddle boarding locations.
The 2016 SUP International Calendar – Give your wall a treat or the perfect gift for the paddle border in your life.
Calendar Specifics: Size: A3 (297mm x 420mm).
Format: landscape, ring-bound with hanging hook.
Photographer: John Carter.
Riders: Tiffany Ward, Anne Marie Reichman, Fiona Wylde, Zane Schweitzer, Jake Jensen, Alice Arukin, Connor Baxter, Airton Cozzolino, Sean Poynter and Finn Mullen
Get your copy here before they go!
International postage options below.
---
---
---
---
The post 2016 SUP INTERNATIONAL CALENDAR – ON SALE NOW! appeared first on Windsurf Magazine.
Click here to read more: Windsurf Magazine
RARE DAY AT HONOLUA BAY
Words Zane Schweitzer // Photos Kapule
21st January 2014
I woke up early at 4 a.m. to help my dad Matt and brother, Matty, load up the boat so they could head to Jaws with a photo crew to shoot the action. T
he waves were meant to be massive, but I'd already decided to stay on the West Side of Maui to surf some fun secret spots and hopefully score.
Before leaving my house it started to pour down cats and dogs. I waited a bit and, at the last minute, decided to load my windsurfing gear just in case this storm would bring in some storm surf conditions!
(This feature originally appeared in the  March 2014 issue of Windsurf Magazine. To read more features like this first, Print and Digital subscriptions are available. Prices include delivery globally for 10 x issues a year!)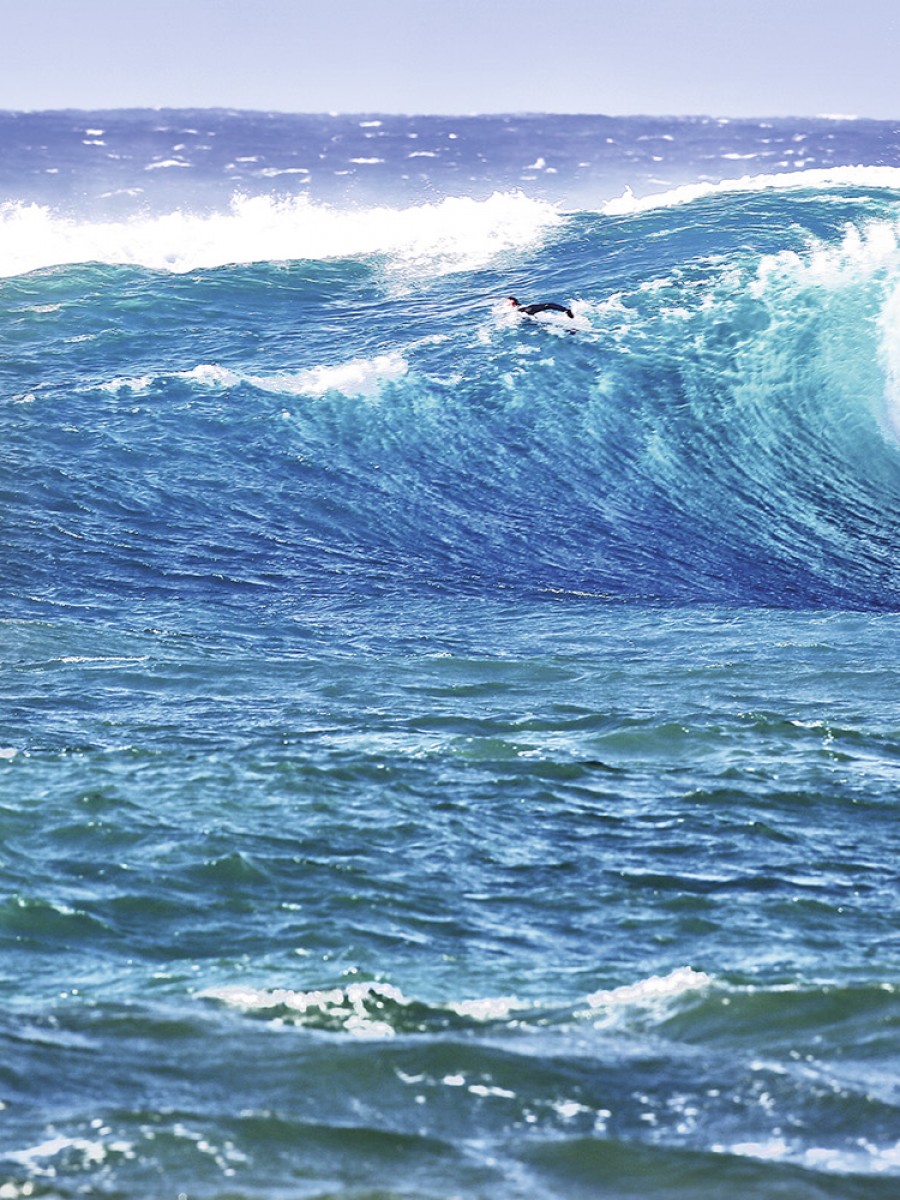 BIGGEST SWELL OF THE SEASON
I headed straight up north to my home break at Punalau where I scored 6-12ft Hawaiian style barrels with a few good friends! I surfed for five hours before the wind picked up and everyone went in. I decided to catch a few more, then that turned into just one more – and just one more, until I broke my board and had to swim in! By the time I was back on dry land, the wind had built quickly from 10 to 30 knots. It was time to switch up the toys from the truck of goodies!
HONOLUA TURNS ON
I rounded the corner towards Honolua Bay and what I saw was baffling. A once-in-a-lifetime opportunity. North west wind and solid 10-ft. waves pounding through. It was pretty big and messy, but a few sets between the closeouts were super fun looking. I decided to try to rig up and launch down the coast from Slaughter House since the wind was pretty sheltered inside Honolua Bay itself. When I was ready to head out, sets started rolling in that were much bigger than earlier. I went for it and tried to time it right to get out in-between the light, sheltered wind on the inside and the big 5-8-ft. shore pound. It didn't work and I ended up worked and rag dolled for 30 minutes before deciding it was too light to get enough speed to make it through the narrow little bay that was starting to close out.
Option number two wasn't ideal either, it definitely was sketchy! I hiked down the steep and slippery trail from Honolua lookout called, 'Hole in the Brain' with all my gear and jumped off the gnarly rocks. From there I had to swim out to the wind line! The wind direction wasn't perfect for down-the-line sailing, but it was an amazing opportunity to windsurf this legendary break that I have been surfing my whole life! My Dad and Wayne Cochran were the only other people to windsurf Honolua, I believe – that was way back in the 80s. On the way out it took me a ton of tacks to make it out through the narrow, almost-closing-out channel. The whole time I was thinking how cool it was to be out here windsurfing at one of my favourite places in the world. I shook my friends' hands who were out there trying to surf in the wind and big waves then headed out to the peak.
First wave I caught from outside of the point, almost at the top of the Honolua Bay, I had such a light-wind take-off, that I dropped into the wave in a place that I very well could've been dropping in on my surf board. I rode it all the way through to Keiki bowls on the inside and got hung up at the top while trying to kick out! I was going down-the-line completely downwind and clew-first when trying to kick out the back. With the light wind I knew I wasn't gonna make it over the thick lip, so tried to push my rig out over the back and, shortly after, took a nice tumble in the Honolua washer machine! My rig came so close to going in to the rocks, It would've been a little bit of a buzz kill to have a one-wave session, as it easily could've been. If you think Ho'okipa rocks are gnarly, they're nothing compared to West Maui …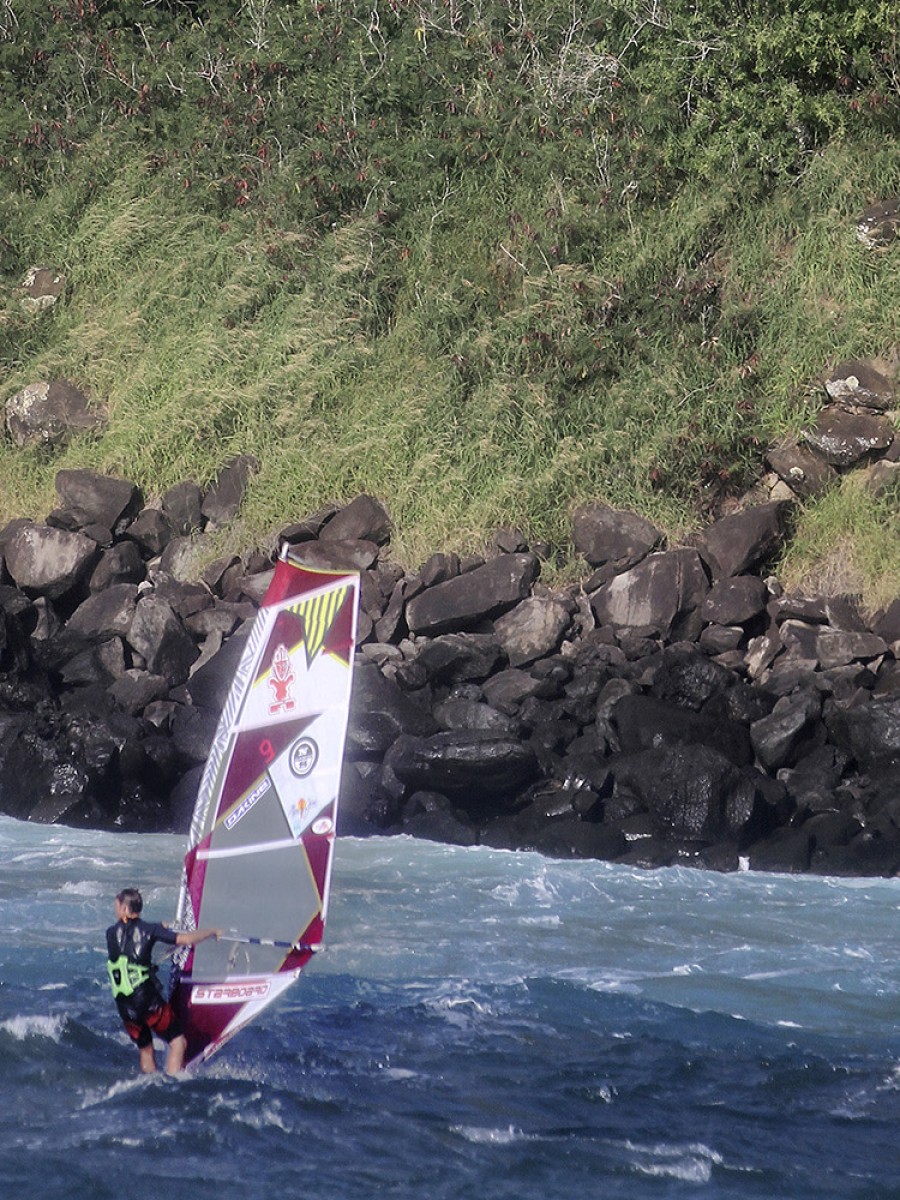 A FRIEND IN NEED
On my way back out a big clean up set washed through, the only three guys that were out in the water surfing got smashed. Two made it in but one of my friends broke his leash and was struggling to stay above water. I started to hear him scream for help and calling my name! This is when the sh** got serious. He'd got nailed by another monster 10-foot Hawaiian cave-kegger and I was worried.
I sailed towards him and he popped up swimming for the channel and waving his hands. By the time I made it to him he was choking up water and panicking. I let him rest on my board until he caught his breath, he desperately was asking for me to drag him in but there was barely enough wind to get me in through the inside as it was. I kept an eye on him as he started the 200-300 metre swim in. It took him a while to make it back in and he ended up taking his wetsuit off and leaving it in the water to help him swim in better. This really confused me, because I lost track of him after this since I was looking for a long-sleeved black wetsuit top. Minutes later I heard Sirens and an ambulance, then, just as I was seriously about to start freaking out, I saw him laying on the rocks on the inside – half naked! I was happy to see him okay and more than happy to continue catching a few waves until the wind completely died shortly after!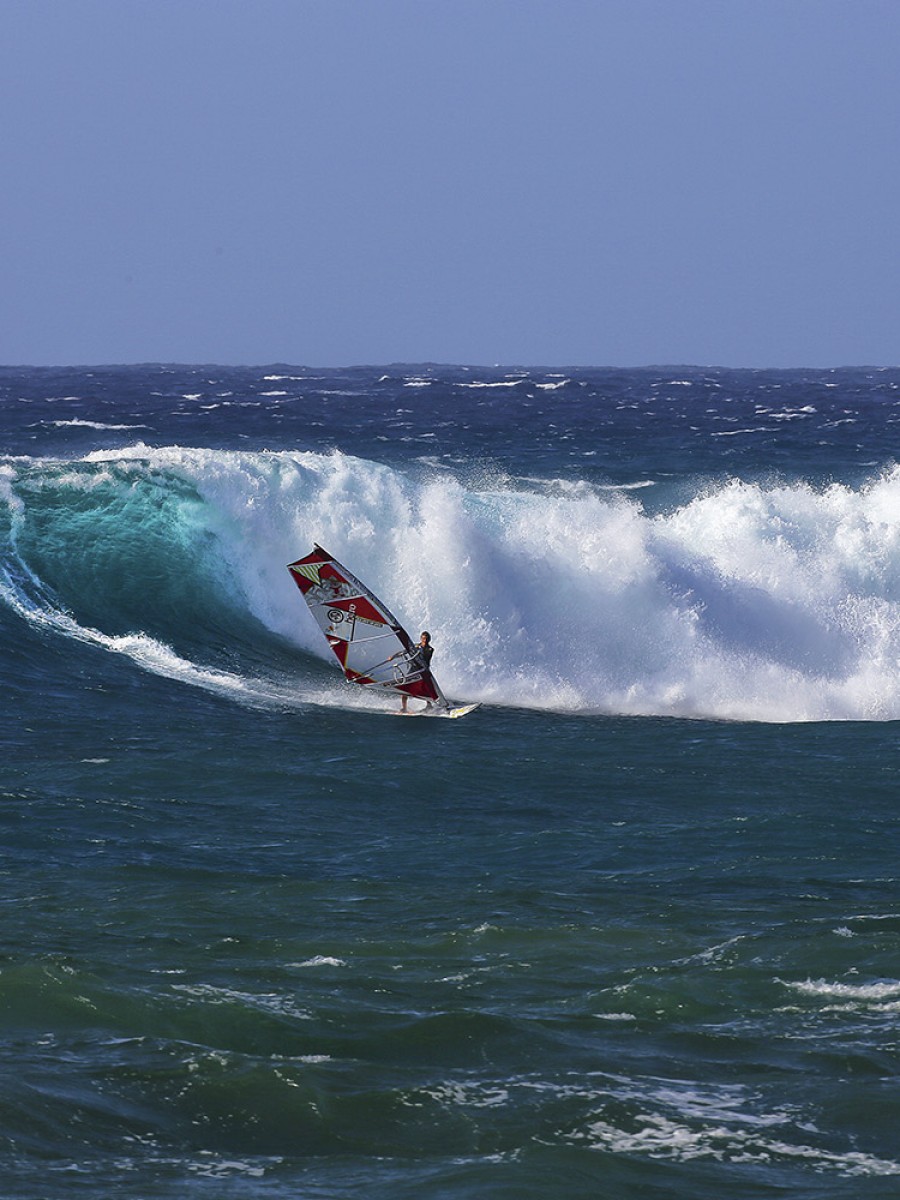 HOME AND DRY!
That was a 'Mission Successful' for me, barrels all morning surfing – and windsurfing fun ones at Honolua! A solid 7 hours on the water was enough to call it a day! See you out there! ZS
The post RARE DAY AT HONOLUA BAY appeared first on Windsurf Magazine.
Click here to read more: Windsurf Magazine
DANY BRUCH & THE BLACK BOX
Meet Dany Bruch, the man behind the revolutionary Black Box 87.
In this short documentary, Daniel Bruch explains how he came up with the concept for the Black Box and discusses his career on and off the PWA World Tour as well as his involvement with Starboard Windsurfing R&D
Click here to read more: Windsurf Magazine
STARBOARD 2013 RANGE DVD
Standby for action – introducing the full length Starboard 2013 range movie.
Click here to read more: Windsurf Magazine
Zane Schweitzer, Connor Baxter and friends had some great sessions on Maui.
Click here to read more: continentseven.com
ZANE SCHWEITZER | BLACK BOX TEST RUN
Zane Schweitzer takes Starboard's Dany Bruch signature model 'The Black Box' for a spin in tricky West Maui conditions.
Click here to read more: Windsurf Magazine
ZANE SCHWEITZER | ELEMENTS
Zane Schweitzer on a high Energy day of Stand Up Paddling and windsurfing in West Maui


Click here to read more: Windsurf Magazine
JAWS INITIATION
Looking back on this day I can't help but feel like a bit of moron having earlier made the call to ''take off, it looks crap." Photographer John Carter and Starboard boss Svein Rasmussen had the text I sent in one hand, held up next to the screen of the camera a shot taken of me riding a double mast high wave in the other. Well, it just goes to show you can't always be right! 
Story: 
Scott McKercher

  Pics: John Carter
(This feature originally appeared in the July 2012 issue of Windsurf Magazine. Print and digital subscriptions for readers worldwide are available HERE.)
Sailing Jaws has never been an overwhelming goal I have felt I had to accomplish, but if given the opportunity, was always something I would like to say I have done. And there I was, sitting in a boat, having never sailed Peahi before, saying that we should be taking off.
In all my years of coming to Maui, a chance to sail Jaws has never lined up – either not having a massive swell, no boat or a boat organised but then not enough waves. Then out of the blue during Starboard's photo shoot, a mediocre Jaws-size day comes through on the radar. It started to unfold at dusk in the car park of Ho'okipa. Starboard boss Svein Rasmussen and SUP marketing manager Margareta were trying to figure out the best possibilities for the next day.
With Ho'okipa on the rise and looking like being closed out, the only options looked like Peahi or Outer Sprecks and the wheels of motion went into gear to try and organise which windsurf and SUP riders were going to get on Campbell Farrell's boat at 5am.
To me, it all seemed overwhelming to try and arrange the boat, food, contacting of people and I rallied against the decision. But Svein and Margareta didn't see obstacles and kept on working through all the logistics until late into the night.
Against my call it was up at 4am to drive down to the launching ramp in Kahului. After just finishing a novel on Bonn Scott from AC/DC – Highway to Hell – having the song come on the radio on the way to sail Jaws for your first time wasn't really the best sign for someone who's a bit of believer in omens, and it kind of put me on edge for the day.
The pre-dawn light also made it feel kind of moody as we loaded up the SUP and windsurf gear and bashed into the wind. It was already blowing fairly strong and was a bit of a mission to boat all the way to Jaws from the harbour, but low tide at [alternative launch] Maliko Gulch dictated this was our only option.
On the way we passed one tow team at Outer Sprecks, but I'm pretty clueless how the coast looks from the ocean side and was thinking it didn't look that big, and doubted whether Jaws would actually be breaking.
It's quite an ominous arena as you pull into the cliff lined bay and see the plumes of spray flying off of the back of the waves. I'm always a little nervous sailing a wave for the first time anywhere, so it's little wonder there were a couple of butterfly's in my belly – thanks Bonn!
First up out of the boat were the SUP crew of Campbell, Bart and Zane. It wasn't big by Jaws standards but there were some decent slabs coming through and you certainly wouldn't want to be caught out of position. There was a lot of wind and bump on the take-off for the paddlers that made it look really difficult. A lot of attempts to get on a wave resulted in either being blown or bumped off.
Laird Hamilton and Kai Lenny were out there on their SUPs with Laird getting a few on the left and later Kai joined him. One clean up set dragged Bart all the way to the rocks with everyone else losing their paddles. Campbell got into a fairly decent sized wave once he got his paddle back and reached for his longer board, which allowed him to scratch into another. After great perseverance Bart and Zane shared a ride, doing really well to hold it together. It first looked like the wind was going to flip them on take-off before they had a big hole in the wave face to deal with half way down.
That was enough for them and to me it looked like way too hard work. Having never been here before with no idea of the line up, I was happy to stay on board the boat. I don't think it would have been too wise to try the SUP option.
With the swell forecast to drop at 11AM, it was windy and a long time since the last set, so I thought it was pretty much done. We had heard Polakow was gearing up to sail Ho'okipa, so I fired-off the text that I reckon it looked shitty and we should split and try and make the most of the rest of the day.
The call from the folk sitting on the hill was to give it a crack seeing as though we were there. So I rigged up, jumped off the boat and saw straight away the paddle surfers weren't having a bar of it. Arms started waving in a gesture that was pretty much the international signal to f***k off and a ski started to come out for me so it was pretty obvious I wasn't welcome and headed back to the boat.
Back on board the overwhelming vibe was that everyone wanted to get going, but again we were told to stay put. Pretty quickly after being told to sod-off the paddle guys were gone and the line-up was all of a sudden left empty to give it a crack.
With no surfers to show me the take-off point it was bizarre lining up for my first wave.  It was like being in a massive football stadium with all the cliffs around, and the potential take-off area felt just as big. So the first one was like, "sheesh, where the hell do I set up for this thing?"
I was lucky as my first wave was actually a pretty clean one, but I played it pretty conservatively with no idea how the place functioned. I was deep enough to get a look up at a nice clean wall in front of me and bank it around off the top. With my first wave out of the way my stomach was settled enough to score a few more.
Jaws is a place that commands respect no doubt, and I'd been hearing how all the boys are looking into alternative breathing apparatus for when they get held down a bit long, with Robby Naish having just had a scary moment during the previous  swell.
You definitely have to contain a fair bit of speed coming down the face, even when it's small and I wasn't too sure how my Quad 82 was going to handle the drop but was pleasantly surprised. You don't want to be taking the first wave in a set that's for sure, as there had some mogul sized bumps to contend with which made it pretty sketchy and it would be so easy to lose concentration for a moment and be in a world of trouble.
This is where I start to look like the fool. There I am with the place to myself for about forty five minutes before the rest of the crew,  including Boujmaa, come out and I had made the call to leave.
I'm aware now that I was in a pretty luxurious situation with all the images I've seen lately of skis, sails, SUPs and surfers all over the joint. So in hindsight it really was a rare gem of a session and I just wasn't aware how lucky I was at the time.
I also know that this was the place at its tamest and I'm now pretty keen to see how the place is when it really starts to roar. Not that I'll chase it down or anything but if I'm around it sure would be nice to really get scared.
A big thank you to Svein, Margareta and Campbell for helping me tick-off one from the bucket list, all when I did my best to sabotage it.

SMc
Click here to read more: Windsurf Magazine
As photoshoot season kicks off on Maui, the team from Epic Sessions have captured the world's best sailors in action.
With a cast reading like a who's who of the windsurfing world, 'Epic Spring Sesh' shows the world's best sailors performing at an incredibly high level. Sit back and enjoy the action…
"Epicsesh has been traveling the island of Maui, Hawaii to capture some of the best action this spring. The winds have been howling and the waves have been pumping with this all out action cast of athletes including Marcilio Browne, Levi Siver, Boujmaa Guilloul, Keith Teboul, Graham Ezzy, Zane Schweitzer and many more. For more updates check out www.epicsesh.com"
Click here to read more: Boards Windsurfing » Windsurfing News